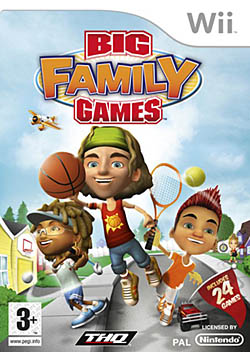 This competition is closed.
The Nintendo Wii games are renowned for being safe for the whole family – and still entertaining. One of their titles, Wii Big Family Games, can be won in this week's bidorbuy Radio Midrand competition.
Aimed towards the younger end of the market, Big Family Games are of a sufficiently high quality to attract critical acclaim and the attention of dedicated gamers. This title is a collection of family-friendly sports-oriented mini-video games for the Nintendo Wii console.  Players create their own unique character and play to win the title of Master. Players will enjoy intuitive controls, using the Wii remote to throw a football, shoot a basketball, toss a horseshoe or to roll a bocce ball.
The extra fun part is from the sidelines. Using the controls, players can tease their opponents to distract them and thus gain an advantage. This makes the game very interactive: the interaction isn't only between the players and the Wii, but among the players too.
This is how the manufacturer describes Big Family Games:
It's a blast! Play 24 unique twists on classic neighbourhood games including Football, Golf, Tennis, Ladder Golf, Lawn Darts, Horseshoes, Bocce, and more!
Fine tuned controls! Players will enjoy intuitive controls for a pick up and play experience for the whole family – use the Wiimote to throw the football, shoot the basketball, toss the horseshoe and roll the bocce ball just to name a few!
Conquer the neighbourhood! Play by yourself or challenge your friends and family.
Taunt your opponents! From the sidelines, break their concentration and give yourself the advantage.
Become part of the neighbourhood! Create your own fully customizable, playable characters with endless combinations.
To win the Wii Big Family Games collection, all you have to do is tune in to Radio Midrand 93.8 fm during this week, catch the simple question about bidorbuy and phone in with your answer. One lucky winner of Wii Big Family Games collection will be announced at the end of the week, on Friday 16 October 2009.