If you are in need of a superb chocolate cake recipe that is suitable for vegans, you don't need to look any further. Making a vegan alternative or even hearing the term "vegan" might make you panic or even get you in a flat spin. You will be happy to know that making a vegan cake is extremely easy; the only thing you need to make certain is that you have bought the right ingredients. To ensure you don't purchase ingredients with any trace of animal produce, thoroughly read the label of each item and scrutinise the contents.
If you are worried that the vegan alternative will not taste as good, I can assure you the end result will be like every good chocolate cake: fluffy, sweet and very chocolatey of course!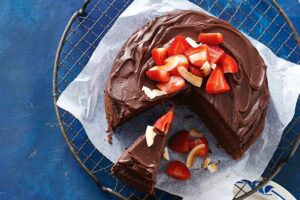 So let's start off with the ingredients. Below is a list containing everything you will need to make a great vegan cake:
Ingredients (cake):
320 g unbleached all purpose flour
265 g organic cane sugar
95 g unsweetened cocoa powder
1 teaspoon baking powder
2 teaspoons baking soda
pinch of salt
2 teaspoons vanilla extract
2 teaspoons apple cider/white vinegar
305 g unsweetened applesauce
160 ml coconut oil or grapeseed oil
480 ml unsweetened almond milk
Ingredients (filling and icing):
300 g powdered sugar
60 g unsweetened cocoa powder
30 g dairy-free chocolate
220 g vegan butter
60 ml unsweetened almond milk
2 teaspoons vanilla extract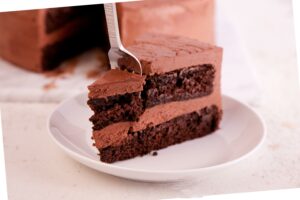 Now it's time to start baking – the vegan way! First, let's get all the admin out the way before we can start with the fun stuff. Preheat your oven to 180 degrees Celcius. Apply non-stick spray to two cake pans (a 20 centimetre cake pan is usually the safest option) and then sprinkle some cocoa powder to coat both cake pans.
Sift together all your dry ingredients: flour, cocoa powder, sugar, baking powder, baking soda and salt.
In a separate bowl combine the vinegar and almond milk and leave for a couple of minutes to activate. Then add the oil, vanilla extract and applesauce and beat using a hand-held mixer until foamy.
Now combine the dry and wet ingredients, and beat until creamy and smooth. Divide the batter between the two cake pans and bake for 25 minutes.
Feel free to leave out the icing if you wish. However, if you want to add some frosting to your master piece, then let your cake cool while you prepare the icing.
Combine all the filling ingredients together using a hand-held beater until light and fluffy.
Once the cake has cooled completely, apply your filling between the two pieces of cake and then all around the cake as well, if you wish.
There you have it, a simple and very easy vegan chocolate cake recipe. Remove the cocoa powder and dairy-free chocolate and you have a delicious vanilla vegan cake… the choice is yours.