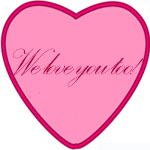 By public vote on the bidorbuy page on Facebook, we have the winners of the 2012 I-love-bob Valentine's Day competition.
You told us in more than a hundred ways why you love bidorbuy. We loved all your I-love-bobs, but we had to select five finalists. We then asked bidorbuy fans on Facebook to vote for their favourite.
The comment that got most of your votes is this charming acrostic, composed by Esmerelda van Jaarsveld:
B – Best
O – Online Shopping
B – By Far!!!!!!!!!!!!!!!!!!!!!!!!!!!
Esmeralda wins the first prize: the Lover's Bliss Couples Package at the private couple's suite of the Renaissance Day Spa. The massage lasts three and a half hours and is valued at R2400. He gets a hot stone massage and an Indian head massage. She gets an aromatherapy massage and a sole revival. Both get a glass of sparkling wine and a fruit platter.
The runner up is this comment, posted by Amy Leibbrandt:
I <3 BidorBuy because I'm a single mom who works full time – so BidorBuy helps me to not only earn a little extra cash on the side to pay for all the little luxuries that most mom's feel guilty paying for (sparkly shoes etc) as well as saves me time as I can do a lot of my shopping online without the hassle of having to venture to a crazy mall with my toddler in tow. Love you guys! 🙂
Amy wins the second prize, R1000 cash to spend on bidorbuy.
All in all, more than 240 people cast their vote on the bidorbuy page on Facebook for one of the five finalists in the I-love-bob competition. One of them was chosen randomly as the recipient of R300 cash to spend on bidorbuy.
The winner of R300 is Thabo Winston.
Congratulations to all the winners and a big thank-you for all who participated in the 2012 I-love-bob competition and in the voting process!