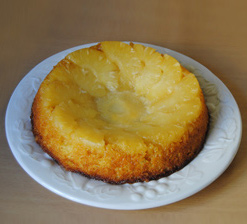 Who says comic books are just a frivolous entertainment? Besides being capable of attaining great artistic heights, they can be valuable in some practical ways too.
As an admirer of Asterix, I was fortunate to find several old Gaul recipes in one of the volumes. (All right, I know that the recipes are not really ancient; I suspect they were chosen because even a kid can follow them, which is fine with me.)
The one I particularly like is called Cleopatra's exotic gateau. It's really an upside down pineapple cake, but you must admit that the reference to the Egyptian queen gives it that special je ne sais quoi.
Here's how to make it.

Tools:
Large bowl
Electric mixer or a whisk
Round baking dish, about 24 cm in diameter
Ingredients:
1 tin pineapple rings (6 or 7 of them) in own juice
4 tablespoons golden syrup
100 g butter, melted
3 eggs
100 g plain flour
1 tablespoon baking powder
100 g sugar
Pinch of salt
Instructions:
Step 1:
Pour the golden syrup into the baking dish to coat bottom and sides.
Step 2:
Drain pineapple rings and save the juice. Halve all rings except one. Place the whole ring in the middle of the baking dish and arrange the halved ones ray-like around it.
Step 3:
Mix sugar, flour, baking powder and salt in a separate bowl. Add 3 eggs, one by one, stirring in between, then add the melted butter. Whisk till creamy.
Step 4:
Pour the batter over the pineapples and bake at 180 degrees Celsius for 30 minutes.
Step 5:
Tip out so that pineapples are at top. Heat about three tablespoons of the reserved juice and pour over the cake. Allow to set. Serve warm or cold.