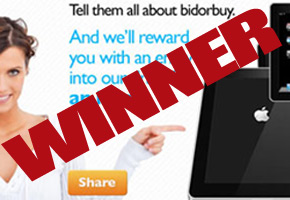 The lucky winner of an iPad in the bidorbuy Share and Win competition is Christiaan van den Heever, Christiaanvdh on bidorbuy. Christiaan received his iPad while holidaying in Jeffreys Bay.
Christiaan joined bidorbuy on 23 November, after a friend referred him in the – you've guessed it – Share and Win competition. In his turn, Christiaan referred another friend. However, as far as luck goes, it was Christiaan who came out tops. His name was randomly drawn out of thousands of entries, and he ended up with the coveted iPad.
There really seems to be such a thing as beginner's luck!
To everybody who participated in the competition – thank you for spreading the word about bidorbuy!
We trust that the thousands and thousands of friends whom you so diligently referred will find wonderful bargains and exciting items on the site. We hope that many of them will try their hand at selling too. We are sure that in the process they will meet many new friends and have loads of fun.
To help all the newbies along, we have an article on How to Buy on bidorbuy for Beginners and an article on How to Sell on bidorbuy for Beginners. You may also want to take a look at the buying advice from the bidorbuy CEO, posted in this press release.
Once again, thank you all! Keep on trading on bidorbuy and checking out for new competitions.