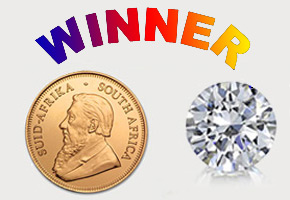 We have the winner in the bidorbuy Coins and Notes New Buyers Competition.
With all the holidays, it took a while to establish the contact, but once it was done, the bidorbuy user who goes under the name Scorpio108 could not have been happier.
No wonder. The prize, sponsored by Randcoin, is indeed stunning and consists of:
~ One 1/10th Proof Kruger Rand worth R1800 and
~ One 0.53 carat, round cut, colour I, SI1 clarity diamond worth R11,650
The winner of the competition says that this is first time ever he won anything.
The purchase that earned him the entry into the competition and, eventually, the prize, was also the first Scorpio108 ever made on bidorbuy.
All bidorbuyers who bought a collectible coin or note between 15 November 2011 and 15 December 2011 were automatically entered into the competition. The condition was – that they never bought a coin or a note on bidorbuy before.
Congratulations to the winner and many thanks to everybody who participated in the competition!
The Coins and Notes category is consistently one of the most popular on bidorbuy. During the last three or four months, this section was among the top three by the number of sales. People buy collectible coins and notes for the pleasure of collecting, for their investment value, or for both.
Keep on browsing and buying collectible coins and notes on bidorbuy!