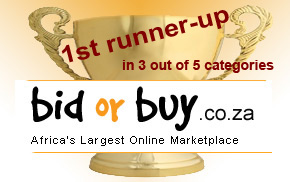 The public's favourite ecommerce website:
And the 1st runner-up is: bidorbuy.co.za.
Best ecommerce services website:
And the 1st runner-up is: bidorbuy.co.za.
Best design, standards and ease of use:
And the 1st runner-up is: bidorbuy.co.za.
Those are the results of the 2010 South African ecommerce awards, brought by Jump.co.za.
Since the inception of the Jump ecommerce awards in 2006 until 2009, bidorbuy.co.za was voted the best auction web site. That's four years in a row. But not this year. This year, there was no best auction web site category. The number of categories was reduced to five: (1) the public favourite ecommerce website; (2) best ecommerce shop; (3) best ecommerce services website; (4) best design, standards and ease of use; and (5) best ecommerce shopping process.
As we mentioned, bidorbuy was voted the first runner-up in three of the five categories.
Even more heartening is the feed back we received from you:
"I have had nothing but fun, friendliness from BoB staff, helpfulness from fellow bobbers and most of all 100% safe transactions thanks to the great security team that is always there to stop scammers dead in their tracks."
"Excellent site, can buy from there with confidence. Never been disappointed."
"The benchmark of ecommerce site in Africa."
"This is the BEST Internet trading sight by FAR.  The staff are always helpful, able to advise and sort out any problem."
"You guys are by far The No1 buy or sell concept in South Africa. Easy website to click and buy. Great back office support and a safe place to trade. "
"Very professionally run site and very user friendly."
"One of the best site in whole Africa! Very easy to use. Good and helpful staff."
(See comments under the blog post bidorbuy at the top, with your help.)
To all of you who voted for bidorbuy, thank you! More than any awards, it is the wish to improve your user experience that keeps all who work at bidorbuy motivated.