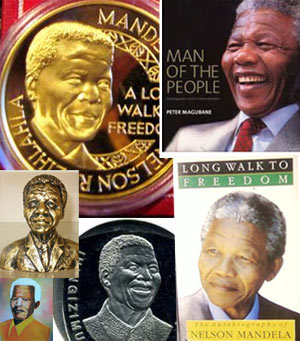 It is safe to say that Mandela-related items never went out of fashion on bidorbuy. True, the interest peaks around specific dates, then falls away, but is always present.
The site has a separate category of "Mandela coins". Judging by the number of items listed, the 2008 Mandela coin, also known as the 90th birthday coin, which created a frenzy two years ago, is still popular. So are the 1994 Mandela Presidential Inauguration R5 coin and the 2000 Mandela R5 coin.
With a new anniversary in the air, it is also safe to assume that Mandela-related items will once more take centre stage on bidorbuy.
Twenty years ago Nelson Mandela became a free man.
After spending 27 years in prison, most of it on Robben Island, he was released on 11 February 1990 and went on to set South Africa on the path to democracy. In 1993, Mandela and the then president of South Africa de Klerk were awarded the Nobel Peace Prize for their efforts in ending apartheid. In 1994, Nelson Mandela became South Africa's first president elected by universal vote of all of the country's citizens. He led the country until 1999, when he decided not to seek the second mandate as a president.
Although he is today largely retired from public life, Mandela, who turns 92 on 18 July, remains an inspiration for South Africans and for the whole world. This year, the opening of the South African Parliament, traditionally held on Friday mornings, has been moved to the evening of Thursday 11 February in order to coincide with the twentieth anniversary of Mandela's release.