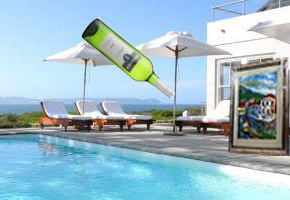 Holiday season is traditionally the time to remember those less fortunate and to lend them a helping hand. We are sure bidorbuyers are doing their bit, without expecting anything in return.
Still, perhaps the best way to give is to combine what you enjoy with what is beneficial for wider community. That is why we decided to give you some good reasons to bid on these charity auctions, currently open on bidorbuy:
Art works…
…because you want something precious (though not necessarily expensive) to brighten your walls, like this radiant oil painting by Michael Waters or this delightful print by Protchie. Alternatively, you can decorate your walls with the image of you or someone close to your heart, providing you win a voucher to have a graphite portrait done by Christiane Savoia.
Delectable wines like this De Wetshof Estate chardonnay or this Warwick Estate Sauvignon Blanc…
…because you will want to make your Christmas or New Year really special.
Weekend getaway, adventure holiday or restaurant vouchers…
… because you deserve it.
All of the above auctions have been organised by our old friends, Vista Nova School, and all the proceeds are for children with cerebral palsy and other physical or learning disabilities based in Rondebosch, Cape Town.
Make sure to browse through all Vista Nova School listings. Find there many more wonderful items donated by wonderful people, waiting to be purchased by more wonderful people (that is, you).