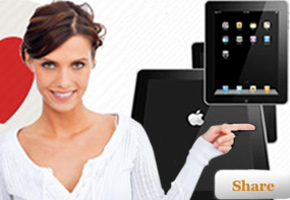 As soon as our Win an iPad treasure hunt ended, bidorbuyers started clamouring for another competition.
And here it is: the bidorbuy Share and Win an iPad competition. So there are no misunderstandings, this does not mean that you get an iPad the moment you refer a friend to bidorbuy. It means that you get one entry into the competition for every friend you refer to bidorbuy. There are some other requirements specified in the (not so) small print of the Terms and Conditions of the competition, among others:
That the people you refer must be real people and must be your friends. All spamming will be frowned upon. (Seriously.)
That the people you refer should be new to bidorbuy and should go on to register on the site (that's what we consider a successful referral).
Providing you adhere to the above, you may share bidorbuy with as many friends as you want to. The more successful referrals you generate, the more chances you have to win the iPad.
The competition closes on 3 December at 17:00. That means that you have only about ten days in which to share your favourite site with your friends! And, as you already know, there's so much on bidorbuy that you can share it with everyone: with your sports mad buddy; your gardening fanatic mother-in-law; your tech-savvy colleague; your fashion conscience niece; your antiques collecting grandmother…
Therefore, spread the word and be on the alert for a phone call from bidorbuy. You'll know you by Friday 10 December if you are the winner of the iPad. And what a Christmas gift it would make!