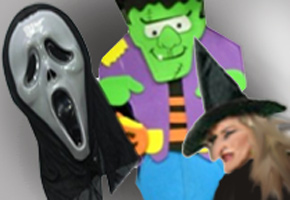 When you see images with witches and terrifying faces like the one adorning this blog, you know what time it is.
The time to relish in being sca-r-r-r-r-ed, of course.
As any Halloween enthusiast knows, 31 October necessitates some well thought out preparations:
For going out
Whether you want to go trick-or-treating or plan to attend a Halloween party, appropriately outlandish attire is a must. Browse the bidorbuy selection of Halloween costumes and accessories to see what the sellers have prepared for you.
For staying in
There is nothing wrong with having a quietly scary night at one's own home on 31 October. Just hop to bidorbuy, browse through a variety of Halloween-related movies and place your order. While you are at it, make sure to stock on sweets and treats for trick-and-treaters. You may also want to practice an appropriately scarred or surprised facial expression in front of a mirror!
For making the scary times last
Alas, Halloween is only for one night, and some of us relish the thrill of getting goose bumps from fear (while sitting safely in an armchair). A horror-genre book or two from bidorbuy is what we want, Halloween or no Halloween!