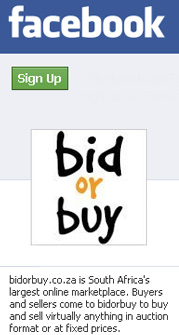 Consider creating your own Facebook profile in order to join bidorbuy there.
We do not know how many bidorbuyers are using Facebook. Judging by the number of fans on the bidorbuy Facebook page (just over 13,000 at the last count) – quite a few.
If you already have a Facebook profile, it is time you joined us. If not – perhaps you will consider creating one now that Facebook people have beefed up the privacy settings on this social networking site. (You have to be a Facebook user in order to join the bidorbuy Facebook page.)
While everyone who has a business presence on Facebook wants as much exposure as possible, most private users would prefer their pages to remain at least reasonably private.
Up to a few days ago, Facebook was notorious for making it difficult for users to configure their privacy preferences. You had to click through 50 settings with more than 170 options. As if that wasn't enough, the moment you set up things to your satisfaction – the powers that be would implement changes that overrode your choices.
Amid an outcry by the users concerned about revealing more than they intended on their Facebook profiles, the company revised its policy several days ago. The privacy settings are now organised more clearly and are easier to manage. Most – but not all – major privacy tweaks are now in one place. A word of caution, though: if you care about how much of your private profile information gets around, don't use the Facebook recommended settings. They are the second-most permissive on the list.
The new controls started rolling out about a week ago and by now they may have reached you too. You will be able to tell whether you have the new privacy layout by the presence of a new chart (instead of text links).
With the new privacy settings, you will be able to control more easily who sees the content you post on your Facebook profile – everyone, friends of your friends, or just your friends. Caution is still the order of the day, and not only on Facebook. World Wide Web is rarely a completely private space and will probably remain so, even if you had a way to preview your social site as a stranger, a friend, or a friend-of-a-friend is able to see it.