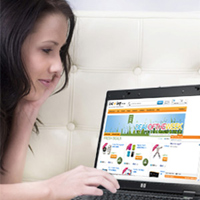 This feature has been on bidorbuy for a while now: the Ask bidorbuy box. You can see it when logged in, for example in the confirmation page when listing an item for sale, during the check-out process. You need not be logged in to see it on the Deal of the Week page.
The Ask bidorbuy functionality is powered by nanoRep. This customer support software is "wired" to give instant replies to the most frequently asked questions. That means that bidorbuy users get the answers they need quickly, and that bidorbuy customer support staff has more time to devote to more challenging tasks.
nanoRep aims to provide replies that are not only instant but also accurate (naturally). In order to be accurate, nanoRep needs to learn…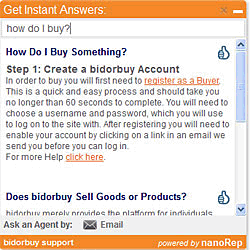 …and that is why we're writing about this feature only now: we wanted to give the lad (lass?) a chance to learn before we formally introduced him (her?) to you.
Here is how it works. For starters, we at bidorbuy have "taught" our nanoRep all the FAQs we could think of. From there on, whenever something new is introduced on the site (and that, as you know, happens often), the information is "fed" to the nanoRep. Also, whenever our "real" customer consultants answer a question not covered in the initial knowledge base, the question and the answer are duly directed the nanoRep way.
We aim to make nanoRep so knowledgeable that he (she?) will be able to answer as much as about 90 percent of customer questions.
If you cannot get a satisfactory answer the self-service way, the Ask bidorbuy box also gives you the choice to either explore the Help pages or to email our support team.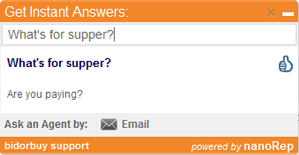 It is important to remember that, when you are addressing nanoRep via the Ask bidorbuy box, you are dipping into our digitalised knowledge base. You are not talking to a bidorbuy customer support consultant, and you are most definitely not talking to any of the sellers who trade on bidorbuy.
Oh, yes. The bidorbuy nanoRep also tells jokes, of sorts. Hopefully, they too will get better with time!