If you see a listing with both Bid Now and Buy Now buttons, like this one…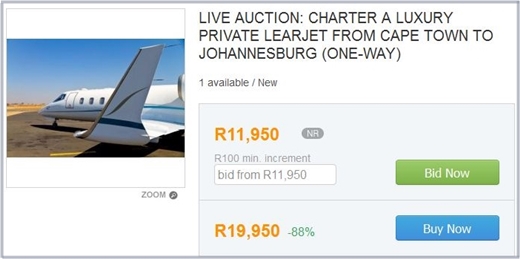 …you are not seeing double. Mid-November 2015, without pomp and fanfares, bidorbuy introduced a Buy Now button in auctions.
That means that you as a buyer can choose to either place a bid, or to buy the item outright. Buyers who do not have the time or patience to make it through an auction will be especially pleased with this new feature (providing, of course, that they are happy with the buy now price).
The Buy Now button will disappear when the auction amount reaches the buy now amount and rival bidders will be able to fight it out via the Bid Now button to their heart's content.
Only one day after the new functionality was quietly introduced, more than one hundred sellers applied it to about six hundred auction-style listings.
The Buy Now button can be added to an auction listing by filling in the Buy Now Price box, like this:

Sellers should note that only auction listings with the quantity of 1 item can have a Buy Now Price option. Of course, sellers can always tick the Allow Offers box to allow buyers to make offers for up to 48 hours after an auction closes with the item unsold.
As for sellers who upload their auction listings in bulk, they can easily make them feature the Buy Now button by simply filling in the Buy Now field.
Any questions? Please write to our category managers at categoryadmin@bidorbuy.co.za.