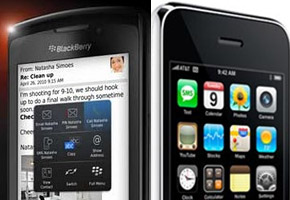 For one short moment, we thought that the time has finally come: the time when Blackberries overtook iPhones as the most searched term on bidorbuy. But then we added Blackberry with Blackberry phone and iPhone with iPhone 4, and the result was – the search term iPhone is still in the lead over the search term Blackberry. The former recorded 3844 searches during the past thirty days, and the latter 3387.
The term laptop came took the third place, with 2712 searches. Its closest competitor, iPad, followed with 2092 searches. The spot number five went to power balance, which recorded 1636 searches. Metallica, which in previous months seriously threatened both the Blackberry and iPhone dominance, fell out of the top five search terms on bidorbuy and came in only sixth.
For the uninitiated, Metallica refers to a popular video game (of the Guitar Heroes fame). As for power balance, we are not sure what visitor to bidorbuy expected to find when searching for this term. A search of our own revealed 2157 listings that contained the term power balance, spread over 28 categories. The most populated were Photography (635 listings with the term power balance), Sport & Leisure (301), Music & Instruments (229) and Cell Phones & PDAs (179). If you have any clues why this search term is suddenly so popular, we'd love to hear from you!
We are also waiting impatiently to find out how the race at the top plays out in the coming months.