Live chat is now available on bidorbuy
Several days ago, a new link appeared under the Help button in the bidorbuy.co.za main menu: Live Help.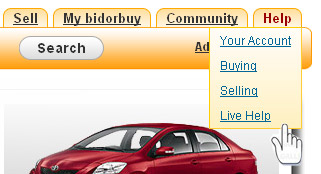 This new functionality opens an additional channel of communication between bidorbuy headquarters and bidorbuy community. Use it whenever you encounter a (seemingly) insurmountable hurdle while you are buying or selling on the site and do not have time or patience to send an email and wait for reply, or do not have a telephone handy.
Simply go to the bidorbuy Live Help page, enter your name and your email address and press the "Request Support" button. A bidorbuy customer support consultant will receive your request, accept it, and the two of you can start chatting in real-time via text messaging.
Currently, the bidorbuy Live Help is available from 8:30 A.M. until 5 P.M. Outside that time (or if all consultants are busy), the visitor requesting support will get a message saying that no agents are available. If that happens to you, you may leave a message by clicking on the envelope icon in the upper right hand side of the live chat window.
Live Help is just one more way to make the bidorbuy customer service quicker and more efficient.  It also shows that we are listening to you: in our surveys, several users have singled out live chat as something that would make their bidorbuy experience even more enjoyable than it already is.