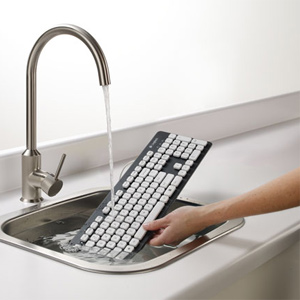 Remember all those keyboards you had to scrap because you spilled some liquid on them and they packed in?
Those days are over. Now you can arrange countless receptacles filled with water, soft drinks, coffee, tea, red wine… around your desk and proceed to work on your computer without worrying about accidentally knocking one of those receptacles, causing its content to spill over the keyboard and disable it.
The device that's sure to make our computing lives easier is a waterproof keyboard recently launched by Logitech. Its name, Washable Keyboard, may indicate that it was originally designed with entirely different kind of users in mind – you know, the users who actually clean their keyboards. Be that as it may, the device is also a boon to the users who can't resist drinking water or sipping red wine over their keyboards.
Except for being waterproof, the waterproof keyboard is very much like any other keyboard. The difference is that the keys are UV coated (so, no fading of the letters) and that it has drainage holes in the back for speedy drying.
All of us who ever had to scrap a laptop due to a spill are now waiting impatiently for waterproof (or red-wine-proof) versions!
In the meantime, join us in keeping an eye out for the Washable Keyboard in the bidorbuy keyboards section.