A watch is not just a functional timepiece; a watch is a symbol of status and style and should be an essential item in every man's wardrobe. Buying a watch does not necessarily have to empty your bank account; you can purchase extremely stylish, branded, sleek and durable watches at very affordable prices. We have made your shopping experience a little easier for you by listing the top-rated and internationally trending, but yet affordable brands below: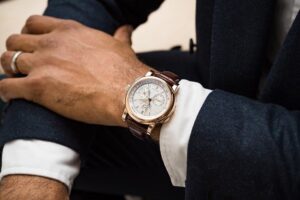 1. Alpina
Alpina is a Swiss watch company that was founded in 1883. They are considered pioneers of modern-day sports watches and offer a vast range of anti-magnetic, anti-shock and water resistant timepieces. Some of the designs to look out for are the Alpina Chronograph, Startimer Pilot, Seastrong Diver, Comtesse and the Horological Smartwatch.
2. Seiko
Seiko is a Japanese company that was founded in 1881 and is one of the top selling watch brands in the world. Seiko is an extremely desirable watch label, with a wide range of designs, namely the Seiko Astron which is the world's first GPS Solar Watch, Prospex Divers Watch, Presage Fine Mechanical Watches and Premier which is the ultimate dress watch.
3. Stuhrling
Stuhrling is an American company founded in 1999 and markets perhaps the most unique watches thus far. They have an exceptional collection filled with style, class and brilliant workmanship. Some of their designs include Stuhrling Symphony, Aquadiver, Aviator, Legacy, Monaco, Prestige and Tourbillon.
4. Casio
Casio specialises in a diverse range of watches from sports to dress watches. Although Casio is one of the most affordable watch labels on the market, their diverse range certainly delivers on quality and aesthetic. Top designs to look out for are: G-Shock which is a leading step tracker and fitness watch, Edifice stylish dress watch, Pro Trek GPS Outdoor Watch, Wave Ceptor, Dress, Classic,  Data Bank which is fully stocked with a calculator and stopwatch and all terrain Sports Watches.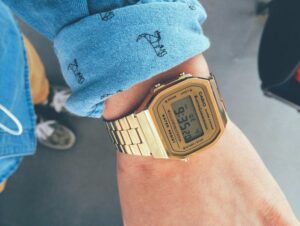 5. Tissot
Tissot is a Swiss luxury watchmaker that introduced to the world the first pocket watch with dual time zones in 1853. With a string of innovative designs behind them, they are a brand you can trust. Highly sought-after luxury designs include: T-Touch, T-Classic, T-Sport, Heritage, T-Pocket and T-Gold.
6. Citizen
Citizen was founded in 1930 by Swiss and Japanese Investors. Citizen has a reputation for producing the most precise watches ever manufactured at a fraction of other high-end designer prices. They are an eco-driven company and even released a line of watches with natural or artificial light power batteries, so you will never have to replace your Citizen watch battery. Eco-Drive, Quartz, Promaster some of the Citizen Men's designs to look at.
7. Timex
Timex is an American company founded in 1854 that offer some of the most charming, flexible and reasonably priced casual watches out there. Not only do they look great and  come with interchangeable straps, but they are also chronograph watches. First class functionality at great prices. Have a look at some of these versatile designs: Easyreader, Waterbury, Fairfield and Ironman.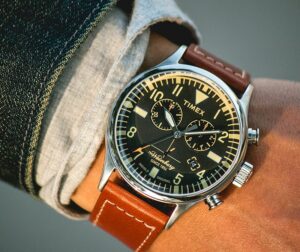 8. Diesel
Diesel is an Italian designer fashion house founded in 1978. Industrial fashion meets classic, bold and robust watch design. If you want to make a statement, then these watches are for you. Exceptionally detailed and modern, have a look at Mr Daddy, Timeframes and Smartwatches.
9. Movado
Movado was founded in 1881 in the village of La Chaux-de-Fonds, the national centre and birthplace of fine Swiss watchmaking. In 1947 a Bauhaus-influenced artist Nathan George Horwitt designed the watch dial with a solitary dot at 12, symbolizing the sun at high noon and since then Movado has kept this dot as standard on their pieces. Some designs that are getting attention are Museum Classic, Ultra Slim, Se Pilot, Movado Circa, 1881, Moderna, Red Label, Esperanza, Masino, Movado Edge, Series 800, Sapphire and Modern Classic.
10. Mondaine
Mondaine watches were designed in 1944 by a Swiss engineer. These watches are known for the famous red second hand and their simple design and easy-to-read face. Mondaine strive to create humble but innovative timepieces at affordable prices, the most popular designs being the Railways and Helvetica designs.
11. Swatch
Swatch, an abbreviated word for Swiss watch, was founded in 1983 by a Swiss watchmaker. Swatch is branded as fun, creative, modern, artistic and trendy. They are most popular with the younger generations and are probably the most affordable watches in this range. Popular Swatch designs to look at are: Irony, Destination and Originals.
12. Skagen
The Skagen brand is based in America and are a subsidiary of Fossil. They are influenced by the beautiful and natural landscapes of Denmark and incorporate elements of the ocean.  Their contemporary, cultured and intelligent designs are desired timepieces. Some of these include Hagen, Ancher, Hald and Holst.
13. Shinola
Shinola is a design brand straight out of Detroit. These pieces are all hand-built in America using extremely advanced technology and are sold for highly affordable prices. Each piece is eloquently designed and guaranteed to last. Among the different designs to look at are: The Runwell, Runwell Sport Chrono and The Canfield.
14. Oris
Oris is a manufacturer of Swiss luxury wristwatches founded in 1904. Currently Oris specialise in mechanical watches; however, you could possibly pick up some great vintage quartz pieces. Some of the designs that seem to be desired are Classic Date, Big Crown, Rectangular and Artelier.
15. Daniel Wellington
One of the newer additions to famous watch brands, Daniel Wellington is a Swiss company founded in 2011. Their speciality are vintage styled watches. All watches have traditional NATO straps and their faces come in an assortment of colours and styles. Have a look at all the Classic and Dapper designs.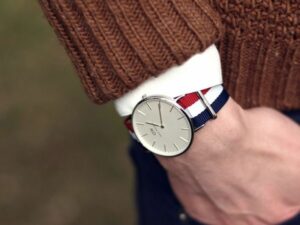 16. Fossil
Fossil, founded in 1984, is an American fashion designer and manufacturer. Fossil are passionate about sustainability and strive to reduce their environmental impact; they also run a Fossil Foundation to empower the youth for a better future. BMW and Fossil have just signed up a partnership for watches and smart watches that will be introduced in 2019. They offer sustainability, affordability and exceptional quality. Very popular designs currently are the Smartwatch, Townsman, Minimalist, Essentialist, Commuter,  Grant, Machine and Nate.
17. Calvin Klein
Calvin Klein is an American fashion house founded in 1968 and is definitely one of the most iconic fashion brands. Their watches are modern, minimal and precise. With their many sleek designs and colour options, CK offer a wide variety of luxurious designs at a fraction of the cost.  Current trending CK designs to look at are Minimal, Alliance, Celerity and Bold.
18. Tommy Hilfiger
Tommy Hilfiger is an American fashion designer who founded this brand in 1985. These watches offer classic preppy style while projecting sophistication. Finish off any formal or casual attire with any of these timeless designs featuring the classic American Tommy logo branding, of course. Some popular brands include: Sport, George, Classic, Skywinder and Denim.
19. Guess
Guess is an American fashion house founded in 1981. Everyone knows the Guess brand, which stands for status, quality and style. Guess combines innovative technology with their iconic fashion style and flair to create modern, sexy timepieces. Some designs to look at:  GC, Sport, Chronograph and Connect Smart Watch.
20. Nixon
Nixon is a California based brand founded in 1997 and is extremely popular among surfers and skaters. However, Nixon's trendy yet stylish designs make them versatile and classy enough to be worn to any function. Amazing and extensive range of colour, dial and strap options, all with the distinct Nixon vibe. Some awesome designs to check out include Player, Ranger, Safari, Cannon and Tangent.