If you are a regular visitor to the bidorbuy Coins and Notes category, you may have noticed there is a relative new-comer: the R5 Griqua Town coin.
This commemorative coin was issued in 2015 by the South African Reserve Bank (SARB) to mark the 200th anniversary of the creation of the first coinage in the country.
The 1815 Griqua Town coins were the first South African currency. They were also the country's first decimal coinage and the world's first Christian Missionary coinage. The original coin series consisted of a five and ten "pence" made of silver and a half and quarter "pence" made of copper. The obverse of all four coins featured the emblem of the London Missionary Society, a flying dove with an olive branch in its beak. The reverse of each coin featured the words "Griqua Town" and the denomination of the coin.
The modern-day commemorative R5 Griqua Town coin is bi-metallic. It features an image of the original coin, with the words "Coinage of Griqua Town 200, 1815 – 2015". The obverse side of the coin bears the South African coat of arms and the acronym SARB.
This is the fourth in the series of commemorative circulation bi-metallic R5 coin. In 2008, SARB issued the "smiling Mandela" R5 coin, commemorating Nelson Mandela's 90th birthday; the 90th Anniversary of the South African Reserve Bank R5 coin was minted in 2011; and 2014 saw the launch of a R5 coin marking the 20th anniversary of democracy, with a "20 Years of Freedom" logo.

Many South Africans believe that the value of commemorative circulation coins will significantly increase in years to come and are consequently keen to get their hands on them and hoard them. However, SARB has reiterated at the launch of the 2015 Girqua coin that circulation commemorative coins are meant to be used as a regular legal tender coin and that their value is exactly the same as the value of "standard" R5 coins – that is, R5.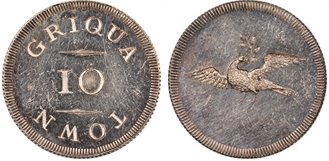 For collectors, a special numismatic Griqua Town coin range was minted. It features a proof quality R5 coin, and, depending on the set combination, may include two R2 silver crown-sized coins, as well as a R2 gold coin. All sets come with a magnifying glass.
Those of you who are interested in the original 1815-1816 issues can check out the Griqua Town coinage thread on the bidorbuy Forum.