Vincent van Gogh is famous due to his unique paintings and style of work. This 19th century painter is also shrouded in mystery, due to his bizarre actions such as cutting off his own ear and taking his life at the age of 37. So I think it's only fitting to find out why van Gogh made all these extremely drastic decisions and extraordinary paintings. Let's find out why van Gogh is to this day still considered one of the greatest Dutch painters after Rembrandt.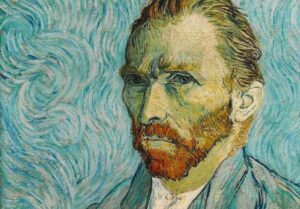 Van Gogh was a Post-Impressionist artist whose work is known for its emotion and bold colours. His work consisted of oil paintings, watercolours, sketches and drawings, a total of 2100 artworks. A number of van Gogh's artworks are now among the most expensive in the world. We will later explore a few of his most well known art pieces. One of the most fascinating facts about this incredible artist is that van Gogh was lonely and depressed. He remained poor and mostly unknown throughout his entire life and his work only became well known after his death.
So how did it all start?
Initially, van Gogh sketched miners and peasants after his failed attempt to become a preacher. Van Gogh then decided to focus on art. In 1886 he made the decision to go live with his brother Theo in Paris. Van Gogh was mostly a self-taught artist, however his exposure to Impressionism  and Neo-impressionism work while living in Paris proved to have a crucial impact on his artworks. From then, he started using brighter colours and different brushstrokes. Personally, my favourite van Gogh painting is "The Starry Night".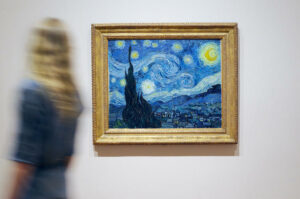 Why did he cut off his ear?
At the end of 1888, van Gogh was suffering from physical as well as psychological illness. This is evident in his actions, as this was around the time he started sipping turpentine and eating paint, so his brother Theo asked Paul Gauguin to take care of him. Gauguin and van Gogh were constantly fighting until Gauguin walked out; as he was leaving, he saw van Gogh holding a razor in his hands. Some hours later, it is believed that van Gogh went to a brothel, paid for a prostitute and offered her his ear.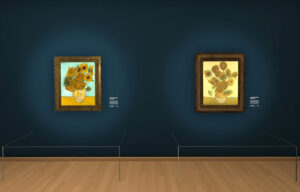 What is he famous for?
Van Gogh is known for his self portraits, 43 to be exact. They are well known not only because painting yourself is definitely a challenge, but also because of his distinct style and choice of bright coloured paint. Interestingly enough, the majority of van Gogh's most famous paintings were created while he was in a mental asylum. A year before van Gogh's death, in 1889, he checked himself into Saint Paul de Mausole, a mental hospital located in the south of France. He produced more than a hundred paintings while at the mental asylum. Some of his most popular artworks produced at this time include "Cafe Terrace at Night", "Irises", "Portrait of Dr. Gachet" and "Bedroom". "Sunflowers" is another well known artwork which was painted in a series; in total there are five paintings of sunflowers.
How did he die?
On July 27, 1890 van Gogh shot himself in the abdomen while painting in a wheat field in the south of France, but that didn't kill him. Police interrogated him later that evening and van Gogh refused to cooperate, he answered with: "What I have done is nobody else's business. I am free to do what I like with my own body." Two days later, on July 29, van Gogh died at the age of 37.
His legacy
Throughout his entire life, van Gogh only sold a handful of his paintings. A century after his death, in 1990 to be exact, one of his artworks entitled "Portrait of Dr. Gachet" sold on auction for $82.5 million. This amount is still one of the highest ever paid for a painting. Van Gogh's brother Theo sadly passed away six months after van Gogh's death; his passing was due to syphilis and the trauma of his brother's passing. However, Theo's wife Johanna was a huge fan of van Gogh's art and collected as many as she could; she was the reason van Gogh's legacy was preserved. In March 1901, Johanna displayed a large selection of van Gogh's paintings at a show in Paris, and the rest is history. If you ever land up in the Netherlands, go have a look at the Van Gogh museum in Amsterdam. Today, Vincent Willem van Gogh is considered the greatest Dutch painter after Rembrandt.