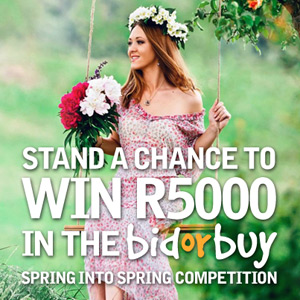 …with bidorbuy and Discovery Miles for a chance to win R5000.
Update: We have the winner!
Our random draw determined that the user Lawdie gets a R5000 bobBucks voucher to spend on bidorbuy!
Congratulations to the winner, and better luck to everybody else in our next competition. Keep on spending your Discovery Miles on bidorbuy.co.za!
This competition is now closed. Read on to find out what it was all about.
Out with the old, in with the new!
Buy something new, something nice, something special on bidorbuy during the month of September for at least 5000 Discovery Miles to stand a chance to win R5000.
That's right. To enter, simply buy anything to the value of 5000 Discovery Miles (R500) or more. For example, it can be:
As we said, it can be a-n-y-t-h-i-n-g, as long as the price is R500 (5000 Discovery Miles) or more.  Just make that order, pay with Discovery Miles, be sure to do it between 1 and 30 September, and you may be the lucky one to win R5000 bobBucks to spend on more awesome stuff on bidorbuy.
If your name is pulled in our lucky draw, you'll be glad to know that R5000 bobBucks is enough to buy you a whole spring makeover. Remember: to stand a chance to win, you need to enter the competition, so get shopping now. With the selection and prices on bidorbuy, you win in any case!
Terms and Conditions:
Everyone who buys an item on bidorbuy and pays with Discovery Miles during the month of September 2014 is automatically entered into this competition.
Minimum value per purchase for the purposes of this competition is R500 (5000 Discovery Miles).
One entry per user.
There will be one winner.
The winner wins R5000 in bobBucks.
bobBucks can only be spent on www.bidorbuy.co.za and are not exchangeable for cash.
Non-completion of a purchase disqualifies the entry in question.
The winner will be chosen by a random draw and declared on 10 October 2014.
Start shopping and good luck in the bidorbuy and Discovery Miles September 2014 Spring into Spring Competition!