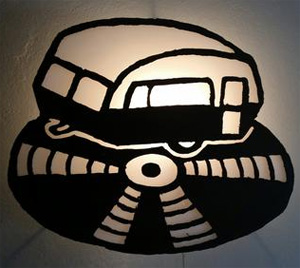 This post was written by our guest blogger Amanda Rowen. We at bidorbuy are proud to host these Heritage Month-inspired SAHA auctions on our platform. Now it is your turn to do your bit and place your bids!
The South African History Archive (SAHA) is raising funds to cover the costs of putting together Shifty September –  A Heritage Month tribute to the Shifty Records music label, combining exhibitions, documentary screenings, panel discussions and concerts to celebrate the Shifty story of musical activism in the struggle for democracy in South Africa.
As the Shifty Records legacy archive project at SAHA grew from a single event, an exhibition, into a month long celebration, the need to raise further funds was identified. To this end, the SAHA team has identified some rare original poster and album art from the archives and South African artist Brett Murray kindly donated five of his famous lights for auction to help raise funds to cover the costs involved in the project.
These Shifty gems are now being auctioned through bidorbuy during September. SAHA Director Catherine Kennedy said:  'We chose bidorbuy because we wanted to work with a proudly South African auction site that is well-known, trustworthy and committed to helping local NGOs raise money for worthy causes like the Shifty September heritage celebrations."
Established in 1988 by anti-apartheid activists, the South African History Archive (SAHA) is an independent human rights archive committed to documenting, supporting, and promoting greater awareness of historical and, since 1994, contemporary struggles for justice and accountability.
One of SAHA's key objectives is to recapture neglected histories through rescuing endangered archive, like that of Shifty Records, a South African record label committed to documenting and supporting the anti-apartheid movement through music and song.
You can also support Shifty September through our crowdfunding project – Shifty September on Thundafund.