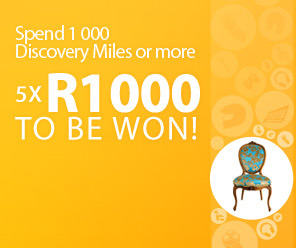 Update: We have the WINNERS!
Congratulations to:
boydsb
hannesbrits
hallc
heskabecker
venteran
These buyers spent 1000 or more Discovery Miles on bidorbuy in the month of September and won R1000 bobBucks each. Next time it could be you, so look out for the next bidorbuy and Discovery Miles competition!
(Your name not among the winners? You may want to buy bobBucks.)
This competition is now closed.
Spend 1000 Discovery Miles (R100) and you may win R1000. R5000 in total to be won.
That's right; all you as a holder of the Discovery Miles currency have to do is to shop on bidorbuy in the month of September 2013!
Spending as little as 1000 Discovery Miles (R100) qualifies you for the entry into our September 2013 competition.
You may be the lucky one to win R1000 to spend on whatever you want on bidorbuy.co.za!
Terms and Conditions:
Everyone who spends at least 1000 Discovery Miles per purchase on bidorbuy between 1 and 30 September 2013 is automatically entered into
the competition.
One purchase of 1000 Discovery Miles or more equals one entry.
1000 Discovery Miles = R100.
There will be five winners.
Each winner wins a R1000 bobBucks voucher.
bobBucks can only be spent on www.bidorbuy.co.za and are not exchangeable for cash.
Non-completion of a purchase disqualifies the entry in question.
The five winners will be chosen by a random draw and declared on 10 October 2013.
Start shopping and good luck in the bidorbuy and Discovery Miles September 2013 competition!