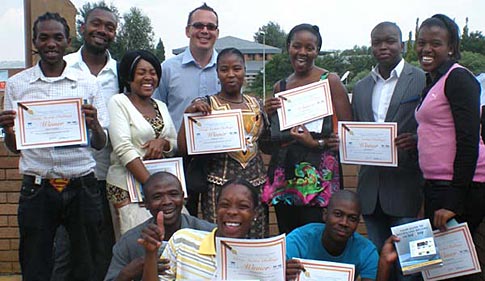 The members of the winning team, Brist: Bulelani Sebenga, Tidimalo Komme, Ingrid Lelimo, Lebogang Hermanus, Duduzile
Mbuli, Ricky Mbuli, Thabang Mohlala, Thato Mokoena, Thabiso Moraka, and Sikhumbuzo Mafuyeka with bidorbuy's Johan du Toit.
There were problems to grapple with when creating the listings, and even more when dispatching the items sold. Inevitably, some mistakes were made. However, in the words of Bulelani Sebenga, "selling on bidorbuy is the best business".
"If you want to make money, bidorbuy is the place to be", he says, and adds: "I am certainly not stopping here. I'll go on until I reach my goal. Today, that goal could be earning money for a holiday. Tomorrow, it might be becoming a millionaire!"
Bulelani has reasons to be optimistic. He is one of the members of the Raymond Ackerman Academy of Entrepreneurial Development (RAA) team who performed best in the bidorbuy Auction Challenge. Duduzile Mbuli, another member of the winning team, says that the sixty students who took up the Challenge learned a lot about non-traditional channels of starting a business. Some of the participants may even get repeat business out of that one exposure to online selling: one of the buyers who bought MP3 Players has asked for more.
The sixty students are the January 2010 generation of learners enrolled for a six-month RAA course designed to help young people develop the skills needed to start and operate a business, find employment, or pursue further education.  The bidorbuy Auction Challenge, which consisted of a workshop and actual selling on the site, was an opportunity for the students to learn how to create an online presence for their business through bidorbuy.co.za.
In March this year, students of MyBusinss InvestSoc at the University of Cape will be the next group to rise to the bidorbuy Auction Challenge. If your University plans on doing something special to promote entrepreneurship, we'd love to hear about it. Drop us a line at social@bidorbuy.co.za.
Read more about the bidorbuy Auction Challenge in these articles:
Students in the bidorbuy Auction Challenge
RAA students take up the bidorbuy Auction Challenge
UCT InvestSoc students in the bidorbuy Auction Challenge
And, as a special treat, watch this video documenting the RAA and bidorbuy Auction Challenge: