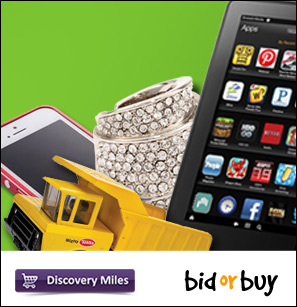 Update: This competition is now closed.
The November bidorbuy and Discovery Miles competition winner is the buyer louisekleroux37, who bought something for R840, paid with Discovery Miles… and won her purchase back!
Next time, it could be you, so keep on spending your Discovery Miles on bidorbuy!
Read more about the November 2013 competition:
The more you spend… the bigger your potential reward. You could win as much as R10,000in bobBucks, just in time for an unforgettable Christmas 2013 shopping spree.
All you need to do is buy anything you fancy on bidorbuy, to the value of at least R500, and pay with your Discovery Miles. Then wait to see whether you were the lucky one to win back the value of your purchase.
And if your name gets drawn and you happen to have made a 100,000 Discovery Miles purchase… why, then we'll hand over to you R10,000 in bobBucks vouchers.
Keep the shopping wheels turning and start spending your Discovery Miles now!
Terms and Conditions:
Everyone who spends at least 5000 Discovery Miles (R500) per purchase on bidorbuy between 1 and 30 November 2013 is automatically entered into this competition.
One purchase of at least 5000 Discovery Miles or more equals one entry.
5000 Discovery Miles = R500.
There will be onewinner.
The winner wins the value of his or her purchase, up to R10,000, in bobBucks.
bobBucks can only be spent on www.bidorbuy.co.za and are not exchangeable for cash.
Non-completion of a purchase disqualifies the entry in question.
The winner will be chosen by a random draw and declared on 5 December 2013.
Start shopping and good luck in the bidorbuy and Discovery Miles November 2013 competition!