Whether you are in team Valor, Mystic or Instinct, every Pokemon trainer needs the right accessories to become a Poke master. Here is the ultimate Pokemon Go starter kit for your adventures.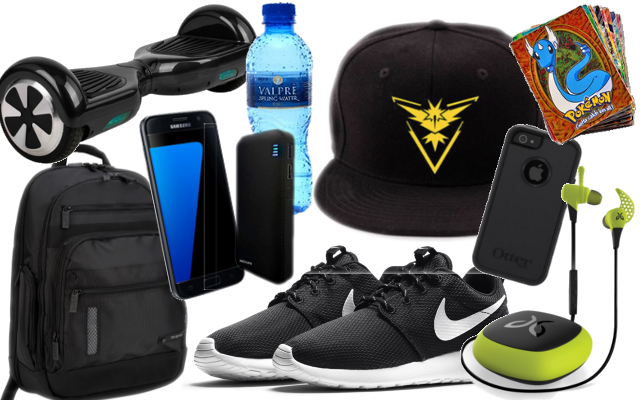 1. Smartphone
If you're a casual player, a simple Android or iOS smartphone will do. However, you're not just any player, so you need the best! For the hardcore trainers out there, battery life and durability will be crucial to the ultimate success.
The Samsung Galaxy S7 Edge has been voted as the best phone for a Poke trainer. This smartphone has a monster battery and is water resistant, perfect for Poke hunting in any weather.
On the other hand, if you have only joined because you have FOMO (Fear Of Missing Out) you can let everyone know that you are part of the trend by taking the best photos of your conquests with the iPhone 6s Plus.
2. Phone case
A heavy duty phone case is a must have for any Poke trainer. If you get excited at the thought of finding the elusive Pikachu, you may just drop your phone while jumping around when you do. I love the LifeProof, OtterBox or Speck phone cases. Be sure to include a screen protector, just in case. For added strength, make sure it is tempered glass.
3. Power bank
I am sure that by now you have heard the distressed cries of Poke trainers whose phones have died during epic Pokemon battles. Make sure you get a great power bank so that you don't become a victim. I love Romoss and Geeko. If the thought of carrying more items while running around turns you off, consider getting a battery cover.
Trainers who are planning an epic excursion and need even more power should checkout Braven Bluetooth Speakers. The bluetooth speakers have 18 hours of play time and double as a 30 000 mAh power bank to make sure you never run out of juice!
4. Snacks
Back in the 90's, your mom would pack you an awesome lunch because she knew that you had to dedicate your entire focus to playing Pokemon. Now it is 20 years later and you can't go over to mom's house to fill your lunch box. Make sure to include some snacks in your backpack and keep hydrated.
5. Backpack
It is easy to lose all your items when on the go. A backpack to carry all your gear is essential when playing Pokemon Go. Be sure to throw in some sunscreen.
6. Bicycle or self-balancing scooter
If you are serious about being a Poke trainer, you are going to have to figure out a way to cut down on your travel time between gyms and PokeStops. You also need to remember that the optimal speed to hatch your eggs is 7.5km per hour. The perfect way to do this is to invest in a bicycle or better yet, a self-balancing scooter.
7. Sneakers
If you have a "Gotta catch 'em all" attitude, you need to get moving! What better time to invest in a new pair of sneakers? I love the new Nike Roshe's. Not only are they air-light and cushiony, but they come in a wide variety of great colours too.
8. Cap
You know that you're the very best Poke trainer there has ever been. Let everyone else know it too. Look the part with the latest accessories. A cap is going to be your best friend when you are running around all day. What better way to own it than with these cool Pokemon Go team caps.
9. Bluetooth headphones
After a day or two of playing Pokemon Go, it is likely that you are going to start hating that annoying soundtrack. Even if you love it, it is not likely that you would want to play it in public. Your next investment should be in a pair of earphones, preferably Bluetooth. Try the Jaybird X2. Not only are they compact, but they have an incredible battery life and they are sweat-proof.
10. Pokemon cards
What better way to find out more about your Pokemon than to look at your original Pokemon cards. If Pokemon was before your time and you don't have your own personal collection, consider buying some.
Get everything you need to be the ultimate Poke Master at bidorbuy!