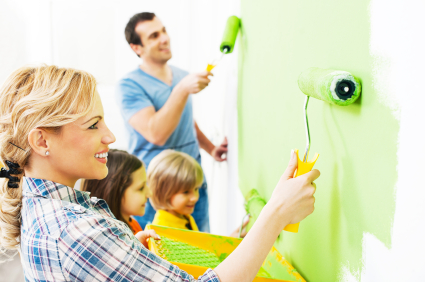 The acronym DIY has been sold by the media as an untapped source of fun, but the truth is that 'doing it yourself' is hard work. For most people, deciding whether to hire painting contractors or to rather brush up on your own personal repertoire of painting techniques will come down to three very important factors:
• The cost of using a professional painter versus painting it yourself.
• Whether or not you actually have the time to paint.
• How large is the area which needs to be painted.
The pros of using painting contractors
While painting your own home is unlikely to rival the skill and technique required to paint the Sistine Chapel, there is a level of professionalism and experience which painting contractors bring to a project. They will ensure that the surfaces are well prepared by sanding, fixing imperfections, and damp proofing. This preparation, while time absorbing, goes a long way to ensure the longevity of your paint and the wall.
Painting contractors will often charge by the square metre and usually quote for free, so there's no harm in doing a bit of research before you hire a company to paint your house, be it the interior or the exterior.
Hone your own painting techniques
If you do decide to do it yourself, don't get too carried away with sponging and / or ragging. Remember, it's not the 90s anymore. If you want to get creative, spend time selecting a great colour. You can always apply a vinyl decal as a finishing touch. However, it is infinitely more important to ensure that your handy work is immaculate, even and clean.
Some DIY painting tips
Prepare your walls by washing them with sugar soap to remove any grease, grime or other residue to ensure that your new paint adheres to your walls and spreads evenly.
Patch up holes and cracks, leaving the filler with enough time to dry before you cover it up with paint.
Before you start, be sure that you have covered and masked off every corner, border and door frame in sight. Additionally, you will want to remove light switch and plug covers to keep them paint free too.
A clean, fresh ceiling is the best part of a fresh paint job, but all manner of drips and drops are likely to come from the ceiling, so paint your ceilings first.
To ensure an even result, take it slowly and apply each layer as evenly as possible. Working from one end of the room to the other, keep painting along the wet edge of your new paint.
Now that you have a clear grasp of the painting techniques you need in order to successfully complete your DIY painting project, you might want to pack a basket full of tools. Alternatively, there's always a painting contractor willing to lend a hand.