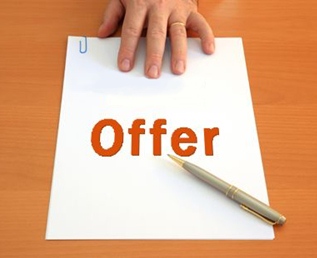 bidorbuy now has a separate section devoted to listings that incorporate the Make on Offer functionality.
A while ago, we wrote about a new feature on bidorbuy: Make an Offer. Now, more than one month later, we would like to share with you a couple of things.
Firstly, we are glad to report that since then, this little button has been used numerous times on the site, to the satisfaction of buyers (who got the coveted item for less bucks) and sellers too (who got to clinch a sale, albeit at a lower price than they originally hoped for).
Secondly, we are also glad to let you know that we have decided to devote a separate section to listings that incorporate the Make on offer functionality. Find it right here, on the page aptly named Make an Offer.
Currently, the page has more than thirty thousand listings. We expect this number only to grow. After all, it is in seller's interest to opt to include a make an offer button in her (or his) listings and thus get additional free exposure in this section of the site, informally known as the haggling corner. Remember, you as the seller can choose whether to accept a buyer's offer or retort with your own counter-offer. And in order to minimise the danger of less than serious buyers wasting your time, the bidorbuy system is set to not to take into account offers that are too low – or too high, for that matter.
So, buyers and sellers, let the haggling begin! Make sure to make the Make an Offer page one of your regular stops on bidorbuy.