If you are a painter just starting out and still in search of your subject matter, you may be interested to know what kind or artwork sells best. According to one survey, the top 10 best-selling subjects for paintings are: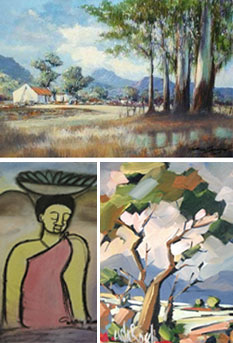 Traditional landscapes
Local views
Modern or semi-abstract landscapes
Abstracts
Dogs
Figure studies
Seascapes, harbour, and beach scenes
Wildlife
Impressionistic landscapes
Nudes
Dogs in the fifth and nudes in the tenth place?! Well, the survey was British (you must've guessed it). A French one would probably give very different results.
And what about South Africans? Can we gauge their art-subject tastes? With bidorbuy, we can.
A peek at the art section of the Recent Buys reveals that during the last week the most popular subject matters were: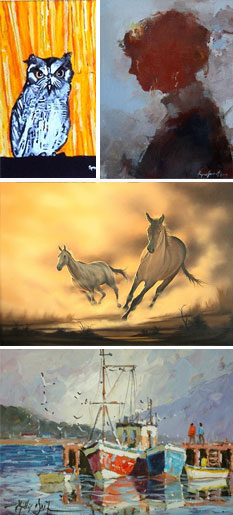 Landscapes: 50 sold; among them nine seascapes and four cityscapes.
Human figures: 33 sold; a few of them were portraits.
Flowers: 20 sold, mostly of bouquets in vases.
Abstracts: 20 sold (some of them looked suspiciously figurative to us, but since the author or seller found it fitting to label them as "abstract"…)
Animals: 7 sold; not one of them representing dogs. In the period under scrutiny, bidorbuyers bought one painting of a horse; one of a donkey; one of a cat; two wildlife paintings; and (surprise!) two paintings of fish, one of which was a gold fish.
Nudes: 6 paintings sold, none with frontal nudity; some of them so simplified as to be almost abstract.
Still life (other than flowers): 1 painting sold, representing a cup of coffee.
Did these revelations prompt you to re-think your artistic approach? If yes, you may also want to bear in mind these tips from art dealers:
Landscapes sell better (and for more money) when there are horses, human figures, or at least a house included.
Any evidence of industry (think factory chimneys) usually lowers a picture's desirability and price.
Water can add value to a painting, but only if it is calm. Shipwrecks are a definite no-no.
Still life with flowers is worth more than one with fruit. Roses stand at the top of the flower hierarchy, while chrysanthemums and lupines are at the bottom.
There's a ranking for animals too: purebred dogs are worth more in a painting than mongrels, and racehorses more than carthorses.
Of course, you as an artist may decide to take all of the above as mere trivia and to continue pursuing your own artistic path. For, as someone said, what sells best (at least long-term) is a unique and consistent style. In other words, paint what you feel like painting, then find your market. Or maybe the market will find you.
And for that, there's no better place than bidorbuy!
Need proof? Meet some of the artists who sell on bidorbuy; consider the experience of this artist and a bidorbuy entrepreneur; and read what this artist says about bidorbuy as a viable way of selling art.