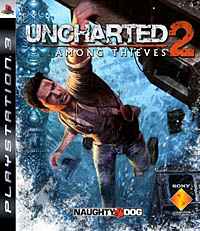 This competition is closed.
Find out who won one of the two Uncharted 2 console game that are up for grabs this week. Also find out how you can win the second Uncharted 2, as well as any of the other console games that bidorbuy and SterKindkor are giving away every week until Christmas.
Uncharted 2: Among Thieves is a PS3 console game that revolves around Nathan Drake, a fortune-hunter with a shady reputation and an even shadier past, who is lured into the treacherous world of thieves and mercenary treasure-seekers. It is up to you, the player, to step into Drake's shoes and embark on a journey that will push your alter-ego to physical, emotional and intellectual limits, leading to the real truth behind the lost fleet of Marco Polo and to the discovery of the legendary Himalayan valley of Shambhala.
Two bidorbuyers will get a chance to fight Drake's battles: one of our fans on Facebook, and one subscriber of our Newsletter.
The winning fan is already known; his name is Mohammed, and you may see his entry on the bidorbuy page on Facebook.
The username of the winning subscriber will be published in the next week's issue of the bidorbuy Crazy Wednesday Newsletter (subscribe here).
Both winners will get not only a copy of Uncharted 2: Among Thieves PS3 console game, but a T-shirt too.
And these are the games that can be won during the subsequent weeks:
Pro Evolution Soccer 2010 + T-shirt (Xbox PS3 or PC – the winner chooses the platform)
WE Smackdown vs. Raw 2010 + T-shirt (Xbox, PS3, PC, PS2 – the winner chooses the platform)
SAW + T-shirt (Xbox or PS3 – the winner chooses the platform)
Infamous + T-shirt (PS3 only )
Ghostbusters + T-shirt (PS3 or PSP – the winner chooses the platform)
King of Fighters + T-shirt (Xbox or PS3- the winner chooses the platform)
Colin McRae Dirt 2 + T-shirt (PS3 or PSP – the winner chooses the platform)