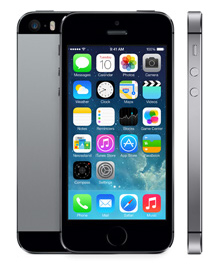 This week, the bidorbuy Deal of the Week features a (still) rare treat: a listing for iPhone 5s. This might be one of the first appearances of iPhone 5s in South Africa. The bidorbuy seller is asking R9999 for the 16GB device in space grey colour, sweetening the deal with free shipping.
The iPhone 5s and its cheaper sibling 5c were officially unveiled by Apple on 10 September 2013 and both are now available in the USA and several other countries. Apple has called this "our best iPhone launch yet", with more than nine million new iPhone 5s and 5c having been sold in three days.
According to some sources, the expected date for the launch of iPhone 5s and iPhone 5c in South Africa is mid-December 2013, although there are speculations about a November or even October 2013 release date.
If past experience with the local launch of iPhones is anything to go by, the South African release date might be well beyond the mid-December 2013 guideline.
The Apple website puts the device-alone (without a contract) pricing at $649 for the 16GB iPhone 5s, $749 for the 32GB and $849 for the 64GB version. The 16GB version of the 5c model has the price tag of $549, while the 32GB one costs $649 at the source.
So, the iPhone 5s units on offer on bidorbuy at R9999 are strictly for early adopters, those who are prepared to pay the premium to be the first to own the latest and the coolest.
The iPhone 5s offered on bidorbuy is a parallel or grey import, and as such carries the dealer's (as opposed to manufacturer's) warranty. The South African Consumer Protection Act stipulates that dealers have to offer at least a 6-month warranty for grey imports.
For those who are happy with last year's technology, the good news it that the newest release is likely to push down the prices of iPhone 5, which retails through South African official retail channels at  R8,999 (16GB), R10,299 (32GB and R10,799 (64GB), and cheaper as grey imports on bidorbuy.