Some will say it's for boys only, but I disagree.
Gone are the days of the obligatory pink and white theme for a baby girl shower. The Baby & Co, i.e. Breakfast at Tiffany's theme will make your baby shower memorable and unique. Most women will cringe at the thought of using the colour blue for a baby shower for a girl. However, the colour blue is integral component of the Breakfast at Tiffany's themed shower.  Furthermore, who says that blue cannot be used for a baby shower for a girl? This iconic theme is simple to pull off and can be achieved in 7 steps.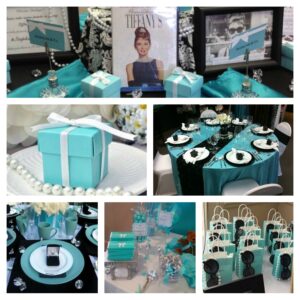 Steps:
Cover the table with a Tiffany

blue tablecloth

and place black and white striped runner on top of the tablecloth.

Add

crystal candle holders

with Tiffany blue colours.

Place a big

vase

with black, white and Tiffany blue feathers on the table.

Adorn the table with faux

pearl necklaces

, faux diamond rings and any other sparkly embellishments you have.

Put blue Tiffany boxes on the table.

Paste black and white photos of

Audrey Hepburn

, mother-to-be and the ultrasound pictures of the baby all around the room.

Place

white plates

and silver cutlery on the table.
Be iconic and channel your inner Audrey Hepburn with Breakfast at Tiffany's themed baby shower.