Si
nce it's nearly summer, it is time to celebrate! Spring means "sun's out guns out" and of course we want any excuse to have a party! This blog will highlight some affordable and easy ways to make a party to remember, and all in the comfort of your own home. Since it's nice and hot, why not host a party in your backyard. If you don't have a garden, not to fear… a party indoors is just as much fun!
The key to creating a stress free gathering where you can still enjoy yourself and chat with your friends involves one thing and one thing only: preparation.
1. Food:
Choose snacks and finger foods as a starter because they are easy to make and present. Chips or nachos are always a way to go. For a main meal, you can do a burger bar… it is easy to make and you can incorporate a self-service element by allowing your guests to choose what they want on their burgers. Just arrange all the possible burger fillings and let your guests choose. All you need to do is prep and cook the patties, easy peasy. For dessert, I would suggest you choose something frozen as this is the quickest and very popular among most people. You can serve a traditional ice-cream or you can attempt to make a frozen cocktail.
2. Drinks:
Jam jars or easy cocktails. A nice cocktail for summer is anything light and fruity. Maybe a Mojito? Or a vodka mix with lemonade and water, then add a bunch of orange and lemon slices. Uber fresh and easy!
3. Theme/dress code:
You can have a theme or no theme. It is entirely up to you, if you feel like dressing up. An exciting theme idea that doesn't require a lot of money or effort is a Mexican party. Just get a poncho or blanket type thing, a sombrero and a mustache if you are feeling festive. If you decide to go with the Mexican theme, bring out the tequila! Another idea for a theme is to ask your guests to bring one prop only, it's easy and everyone can be someone different… it is also a great talking point and conversation starter.
4. Seats/space:
If you have a tiny garden only big enough for a small dog, not to worry. Using ottomans, bean bags, spare chairs and blankets that you can simply spread on the grass will work wonders.
5. Party decorations:
Get a piñata for some festive stress relief. This is great fun and is definitely a memorable part of the night no one will forget. For an affordable table decoration idea, use some empty wine bottles. You can paint them, stick ribbons on them or place water in them with some beautiful flowers. Cheap but effective.
6. Fans:
For the heat, provide hand held fans that guests can use and take home as a party souvenir.
7. Music:
Get a superb playlist that lasts up to 5 hours and some good speakers or some tiny Bluetooth speakers for great sound. Choose relaxed music that will make your guests feel calm and at ease.
8. Photos:
Take lots of selfies, so get your selfie stick out of the cupboard and keep a camera nearby. If you have a polaroid camera then get that out too. The more photos the merrier… capturing memories is what it's all about.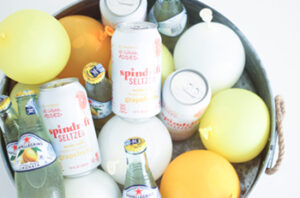 9. Ice buckets or normal buckets:
To keep all your drinks cold and refreshing (get lots of ice or use water balloons filled with water, freeze them and voila, you have colourful ice blocks in your ice bucket!)
There you have it, the summer party of the year in nine simple steps! You couldn't get it easier than this. Let your creativity take over and allow you to incorporate your own personal flair into the party, after all you are the host. Let your guests remember the party and remember you! It's party time!