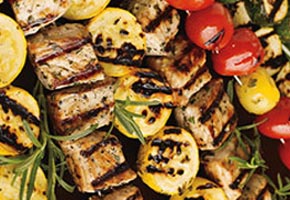 Summer is traditionally the braai time. However, the traditional South African braai can be one of the unhealthiest eating experiences.
It does not have to be like that.
As long as you keep meat portions moderate (about the size of your palm); stick to whole-wheat breads and rolls; serve salads without fatty dressings; and add vegetables to your plate, you may indulge in braai-feasts without dire consequences.
Here are several more tips to ensure that your braai is both tasty and healthy:
Meat treatment: Chicken breasts will never give your body a surge of fat, providing you remove the skin before cooking. Other tasty non-fatty options are ostrich meat, ostrich or chicken boerewors, and, of course, fish. Many a traditional braai lover has discovered that grilled tuna is simply delicious. To keep fish moist and in one piece, wrap it in foil parcels and add olive oil, fresh lemon juice, garlic and loads of fresh herbs. If you must have red meat on your braai menu, opt for lean cuts. Health experts also say that you should marinate meat before cooking and flip it often. Do not cook to well-done and never eat charred pieces.
Go veggie: Whether you choose to have them as a main meal or as an accompaniment to your palm-sized portion of meat, braaied vegetables are both healthy and tasty. You may braai chopped vegetables wrapped in foil, with some salt and olive oil. Or you may braai them on a skewer; choose wooden ones so that the chunks of vegetables do not slide off (soak the skewers in water first).
Mushrooms all the way: Mushrooms are usually beloved by both meat and veggie lovers. And braaied, mushrooms are indeed a treat. Get the big ones, place on a sheet of foil, add salt, pepper, garlic and whatever else you want, wrap up the foil and put it on the braai.
The next time you plan a braai, remember that it does not have to be a traditional fat feast. Make the right choices and you will not lose any flavour. In fact, your braai will probably be tastier than ever.
As for your braaing gear, you will find everything you need on bidorbuy, from accessories like tongs to gas or charcoal braais. Just take a walk through our braai and outdoor cooking section.