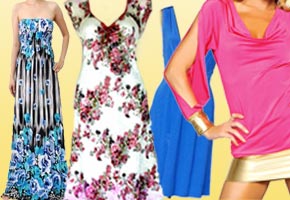 The month of October has been declared (quite arbitrarily, mind you) the month of clothing, shoes and accessories on bidorbuy.co.za.
In that name, we bring you some statistics on how the sales of clothes and related items are faring.
Out of 20,103 items sold on the site in the week ending today (24 September – 1 October), exactly 1,111 were listed in Clothing, Shoes & Accessories.
As expected, the first place in the category went to women's clothing, with 465 items sold. A total of 243 sales secured the spot number two for women's shoes and accessories. With 211 items sold, men's clothing took the (still respectable, all thing considered) third place.
Within the women's clothing sub-category, dresses recorded the most sales: 115, only one more than lingerie, saving us (thankfully!) the embarrassment of talking about the unmentionables.
And what kind of women's dresses sold on bidorbuy during the last week of September 2010? That question is simple to answer: maxi dresses sold well, and so did mini dresses; patterned dresses, as well as dresses in solid colour; glamorous dresses and understated dresses; demure dresses and provocative dresses. In short – the shopping patterns on bidorbuy closely follow the eclectic nature of today's fashion.
Do note that the sales figures available on the site will vary with every new search, because the recently won and bought page updates constantly. A few discrepancies here and there are also due to sellers listing in the wrong category. (Really, guys, flip-flops among dresses?! Must have been a man-seller!)