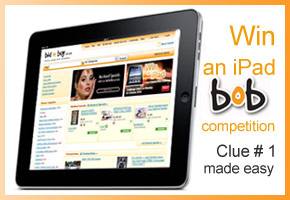 And the treasure hunt for the mystery listing on bidorbuy is on!
The first in the series of clues which will lead you to the mystery item listed on bidorbuy (and, perchance, to your very own iPad) has been posted on the Forum pages. It is suitably easy. Visit the Forum Win an iPad thread to locate clue 1, posted at exactly 14:33.
Tip (for your eyes only): the first clue relates to the condition of the item.
So, now that you have hit upon the solution with the invaluable help of our tip, how do you find the right item among tens of thousands that fit the description?!
The task seems momentous. After all, bidorbuy has about 485,000 items listed on the site; almost 300,000 of them are brand-new, and the rest are second hand. Worse than looking for a needle in the haystack, isn't it?
Do not despair. bidorbuy has a sophisticated Advanced Search functionality that allows you to zoom in on the wanted item with (practically) surgical precision.
Of course, the clue number one is not designed to lead you to the mystery listing. We shall be giving you additional clues over the next several days. Collect them all. By the clue number twelve or so you should be able to land on the mystery listing, capture the secret code, SMS it to 33003 by 5 P.M. on 5 November 2010 and be entered into the draw for the iPad.
All you need to do now is:
Note down the answer to the clue number one and keep it in a safe place.
Visitors, register on bidorbuy (only registered users can enter the competition).
Registered users, update the contact information in your bidorbuy account (if you win but we cannot reach you by phone – you lose out!)
Practice using the bidorbuy Advanced Search functionality.
The competition details and rules can be viewed in the blog post entitled Win an iPad.