The festive season is upon us! Doesn't it feel like it snuck up much quicker than the year before? It's time to be merry and feast with your loved ones, eating and drinking to your heart's content. Christmas is very much about giving back, and also about gift giving. Sometimes, buying gifts can be rather stressful, mostly because you don't know what to buy. Hence the creation of this blog post: inspiration for gift ideas you can use for family and friends.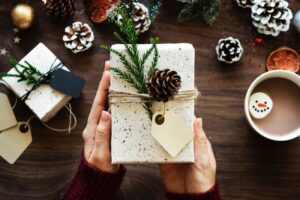 Gift ideas for men
Toiletry bags and shaving kits are a great option because this is something that will always come in handy. If the person you are buying the gift for likes to grow a beard, perhaps consider a beard grooming kit rather than a shaving kit.
Craft beer and snacks can also be a great option. If beer is not a favourite, consider a spirit like gin or vodka or perhaps wine. These types of gifts are guaranteed to be a hit because they can be consumed and enjoyed. Just do research so that you know what type of alcohol and snacks your gift should consist of. Great snack options include biltong, nuts and dried fruit.
Gadgets can be a great gift for someone with likes electronic items. Think drones, cameras, smart watches, power banks, headphones, TV boxes… and the list goes on. The latest games on PS4 and Xbox or gaming accessories can also make for a perfect gift. The best option will depend on the interests of this person, as well as your budget for the gift.
Outdoor braais and accessories can be perfect for a very outdoorsy person. If your budget is big enough, get your friend or family member a brand new braai! If you are working with a smaller budget, consider a braai kit or apron.
Gift ideas for women
Women can be quite tough to buy gifts for, but if there is one thing I have learnt, it is that you should stay away from clothing and shoes. It can be very tricky to get the perfect fit and size, so save yourself all that trouble and purchase things that don't need to be returned. Handbags are a great gift as a woman can never have enough! From small shoulder bags, tote bags or even larger weekender bags, the options are endless.
Jewellery boxes and cosmetic holders are always a winner. You can get beautiful jewellery boxes that store your items or jewellery stands that allow you to put all your jewellery items on display. Cosmetic holders or organisers are a great way to keep all your makeup in a neat storage unit.
Books are always a great option if this person is a big reader; just be sure to find out what genre or type of book this person is interested in. If books are a bit too difficult, consider purchasing a diary or journal.
Perfume is always a great gift for a woman; we can never have enough. However, ladies often have particular preferences when it comes to perfume, so be sure to find out what their favorite scent is before making that purchase.
Gift ideas for children
Lego is a classic and can be a great gift for girls or boys. Smart watches for kids should be a huge hit, so that's another great gift idea. Action figures and Barbie dolls are a good idea if the kids you are buying these gifts for are interested in these types of toys. Pool floats and toys are also an excellent idea for the summer holidays. If you are looking for great stocking stuffers, here are a few items you can consider: Nerf blasters, silly putty, hot wheels and stationery.
There you have it, gift ideas for the festive season. Hopefully, this helps if you are struggling to think of great gift ideas this year.
And as for the giving back bit I mentioned at the beginning of this post… even if you do not often donate to charities, consider purchasing a little something from the bidorbuy Charity section at this time of the year. You can rest assured that your money will go to a good cause.
Festive wishes from us at bidorbuy and happy shopping!