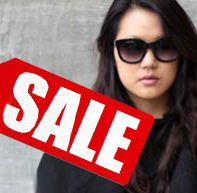 As you read this, the diligent bidorbuy experts are busy browsing through the enormous treasure-trove of products that www.bidorbuy.co.za is (it's currently got almost two million listings, hey!) to find for you the best deals and feature them in a once-a-year, spectacular Black Friday sale.
Black Friday originated in the USA and is regarded as the beginning of the Christmas shopping season, with retailers competing to offer promotional sales. It always falls on a Friday (obviously), but on different dates, and in 2013 it occurs on 29 November. There are several explanations for the term "black". The most widely accepted one is that it is called "black" because this is the day when retailers start operating at a profit (their books are in the black, as opposed to being in the red).
As for buyers on bidorbuy, 29 November 2013 and the weekend following it promise to be especially rosy, so set a reminder to visit www.bidorbuy.co.za and click on the Black Friday banner. It will be conveniently situated in the centre of our home page, www.bidorbuy.co.za, and it will lead you straight to a real treasure-trove of unbelievable deals and discounts.
See you at the bidorbuy Black Friday sale!