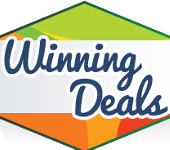 Celebrate the Rio Olympic Games with the most popular items on Deal of the Week.
The Rio Olympics opening ceremony is finally here! Oh, how we wish we could be spending sunny days relaxing on the beaches in between the many sporting events. Those who have the opportunity to be there are the envy of us all.
Fear not, bidorbuy is here to bring the Olympic spirit to you! For the next two weeks, from Monday 8 August to Sunday 21 August, bidorbuy will bring you your favourite deals of 2016.
If you missed out on any great deals this year, now is the chance to grab them. We are giving you a second chance to get the winners in these disciplines: home appliances, techno gadgets, fashion, and more!
There will be:
Gold medal deals, discounted by 50% or more
Silver medal deals, discounted 30% – 49%
Bronze medal deals, discounted up to 29%
Be sure to look out for the deals with an Olympic torch; they are guaranteed to sell out quickly!
What products would you like to see on Deal of the Week? Drop us a mail to deals@bidorbuy.co.za and let us know.
Let the games begin!