bidorbuy is turning 16 in August 2015. That is a good time to look back at the progress and the changes that took place since 1999.
Today, bidorbuy has a wide range of categories, an abundance of products, advanced features and numerous users. There are several promotions that run throughout the year. Deal of the Week has become a popular stop for many users on bidorbuy. Users who are after deals plus excitement can take part in Crazy Wednesdays or Snap Friday auctions that start from R1.
Let's now take a look back.
In 1999, the technological environment was in its infancy. Computers were still a novelty. bidorbuy was the first online marketplace created in South Africa. In the beginning, it was not easy to convince buyers and sellers to embrace the concept of trading on the internet.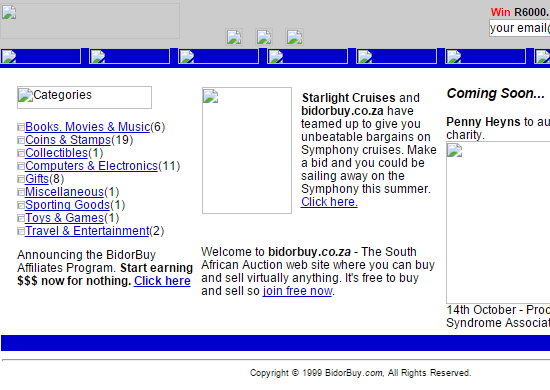 One of the first companies bidorbuy partnered with was Starlight Cruises, as can be seen in the above screenshot.  You can also see that there wasn't a large selection of products and categories on the site in 1999.
However, bidorbuy slowly started to grow and develop its own unique identity.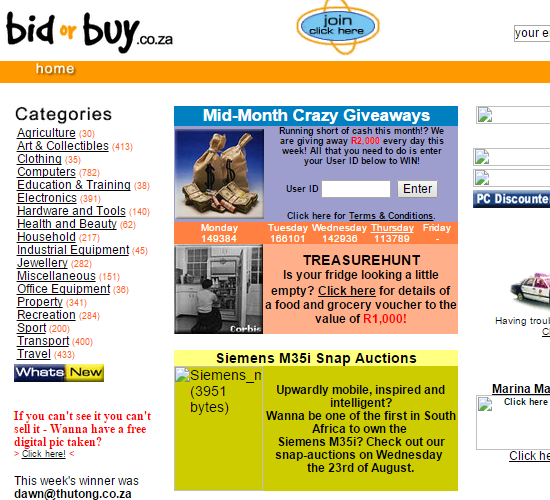 By 2000, the number of categories and products had increased considerably. Those were the days when the Nokia 3310 cell phone was all the rage, when videotapes were being replaced by D

VDs and Tomb Raider was a hot videogame.
At about that time, many online companies were hit hard by the dot-com crash and the Y2K scare. bidorbuy was no exception. However, the site soon began to recover and flourish.
In 2005, ecommerce in South Africa grew by 25% in relation to the previous year. This upswing could clearly be seen on bidorbuy, which now had users nation-wide.
Today, bidorbuy is one of the leading ecommerce platforms in South Africa.  The company was among the first to enter the age of mobile technology with the launch of its shopping application of iPhone at the end 2011.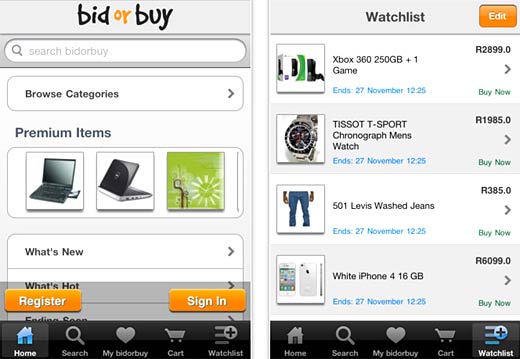 With more and more users shopping online, bidorbuy has positioned itself as one of the top online shopping destinations, with the distinct advantage of a mature marketplace where people can both buy and sell.