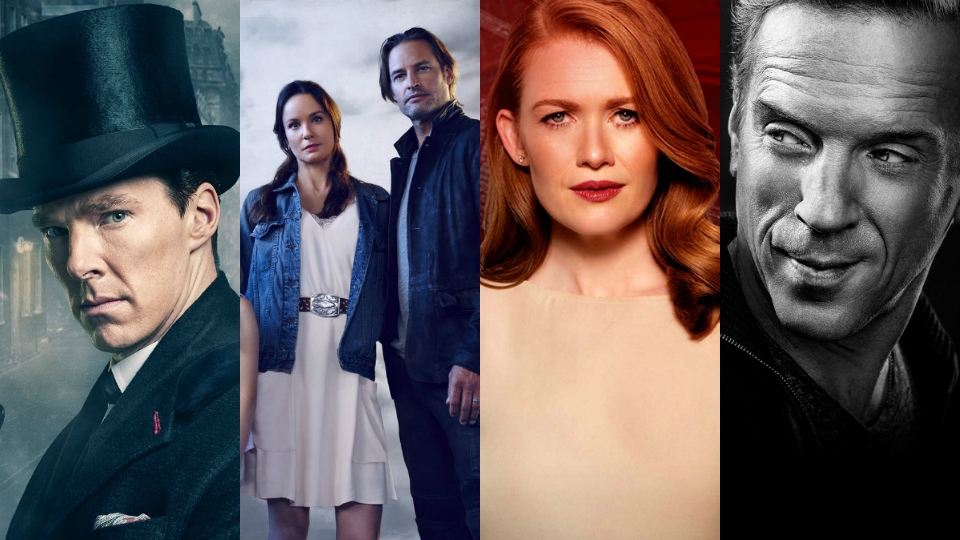 Here's what we're most excited to watch.
Sherlock: The Abominable Bride
Genre: Crime, Drama, Mystery
Stars: Benedict Cumberbatch, Martin Freeman, Una Stubbs
Summary:
"The Abominable Bride" is a special 90-minute episode of the British television programme Sherlock, which sees Benedict Cumberbatch and Martin Freeman returning to 221B Baker Street.
Emelia Ricoletti kills herself in public, after murdering her husband Thomas in front of witnesses. Months after the incident, Sherlock Holmes is approached by Lady Carmichael, who tells him that her husband Sir Eustace has been threatened by Emelia. Holmes sets off to investigate the mystery which opens up a trail of conspiracy involving half the population of the country.
---
Colony
Genre: Action, Adventure, Sci-fi
Stars: Josh Holloway, Sarah Wayne Callies, Peter Jacobson
Summary:
In a futuristic Los Angeles a family must make difficult decisions in order to survive. They live under a new regime of military occupation known as the Colony, a force of extraterrestrial origin. While some have chosen to live under their new order, others have rebelled, but not without suffering the consequences.
---
Billions
Genre: Drama
Stars: Paul Giamatti, Damian Lewis, Maggie Siff
Summary:
Billions is a bold new drama which stars Paul Giamatti and Damian Lewis. Both men are riveting in their roles, playing two of New York's most powerful titans locked in an epic battle. Both are ruthless and will stop at nothing to win. It's a high-stakes game of predator versus prey set in the sexy, ego-driven world of high finance.
---
The X-Files
Genre: Drama, Action & Adventure, Horror, Suspense, Science Fiction
Stars: David Duchovny, Gillian Anderson
Summary:
Since 1993, special Agents Mulder and Scully have been investigating strange objects observed in the skies around the world. The season 10 finale of the X-Files revival sees Mulder and Scully re-uniting to investigate extraterrestrials and government conspiracies that have the potential to pose global threats.
---
The Magicians
Genre: Drama, Fantasy, Horror
Stars: Jason Ralph, Stella Maeve, Olivia Taylor Dudley
Summary:
A group of teenagers recruited at an exclusive academy for magic, soon learn that the magic they read about as children is far more real and dangerous than they thought. The TV series is based on book one of author Lev Grossman's bestselling trilogy: "The Magicians," "The Magician King" and "The Magician's Land."
---
American Crime Story: The People v. OJ Simpson
Genre: Biography, Crime, Drama
Stars: Bruce Greenwood, David Schwimmer, John Travolta, Cuba Gooding Jr., Connie Britton, Courtney B. Vance
Summary:
It has been called the most star-studded series of the year. The series is a behind the scenes look at the O.J Simpson trial which sheds further light into the controversial murder investigation that caused a media sensation.
---
11.22.63
Genre: Drama, Mystery, Sci-Fi
Stars: James Franco, Sarah Gadon, George MacKay
Summary:
11.22.63 tells the story of a divorced teacher that discovers a time portal in his friend's cupboard that takes him to 21 October 1960 Texas, on a quest to prevent the assassination of John F. Kennedy. His time travel leads to conflict with his mission as he finds himself getting attached to the past and falling in-love with the life that he makes there.
---
The Catch
Genre: Crime, Drama, Thriller
Stars: Mireille Enos, Peter Krause, Alimi Ballard
Summary:
The Catch is a thriller that features Mirelle Enos, who stars as a strong and successful private investigator. Her career speciality is exposing fraud for a living. Conned by her fiancé' who disappears with millions of her money she plays a dangerous game of cat and mouse and must find her fiancé' before everything she has ever worked for is destroyed.
---
The Path
Genre: Drama
Stars: Aaron Paul, Michelle Monaghan, Emma Greenwell
Summary:
The Path is about a cult group called the Meyerist. It stars Aaron Paul who plays a man who converts to the cult and suffers a crisis of faith.
---
Still trying to figure out what to watch next? Browse bidorbuy's TV series category for more binge-worthy entertainment.