Welcoming a new baby into the family is an exciting and busy period. Naturally, setting up the baby's nursery is one of the important items on your to-do list. This blog post will give you great nursery decor ideas, as well as some useful, practical tips designed to make your life easier.
Pick a theme and go from there
Your theme doesn't have to be specific. It can even be a colour scheme. The point here is to pick something and stick with it. Selecting a theme will help bring all the other elements together easily. If you choose not to know the gender of your future baby, then grey is your friend. This neutral colour goes with almost everything and can be incorporated with bright or gender-specific colours at a later stage. Pastel colours like yellow and beige are also a great option.
Decor tip: Wallpaper or wall decals are a quick and easy way to add colour or images if you have a particular theme in mind.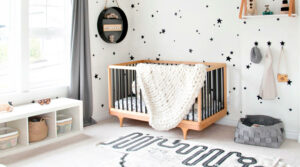 Statement pieces that will make your nursery stand out
There are a few decor pieces you can incorporate to add a wow-factor. Art on the wall is always a great eyepiece. Either add artworks that link to your current theme or special pieces given to you from the people you love. Beautiful decor pieces, like aeroplanes or dream catchers hanging from the ceiling, can add a decorative touch. Alternatively, an elaborate mosquito net over the crib will make heads turn. You can also install a chandelier or a light fixture that creates a statement.
Decor tip: Floating shelves are affordable and extremely useful for ornaments, baby essentials or even beautiful pot plants to add some colour and a touch of nature. Lastly, a string of bunting can create a bold statement and is extremely affordable.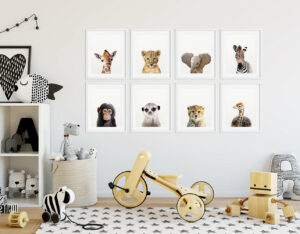 Make sure everything you need is easy to reach
This is especially true when it comes to your changing table. Make sure all you need to change a nappy is within reach. Not only will it make your life easier, but you also won't need to worry about your baby rolling off. This applies to all your other baby furniture and supplies. Keep the soft toys, blankets, etc. near the baby's crib, so that they are easily accessible to you.
Decor tip: Create a diaper station next to your changing table. You can use an old kitchen grocery cart. Just repaint it! This also allows you to see all your nappy supplies, so that you know when you are running out.
Nursing nook and reading corner
Dedicate a little corner in the nursery to create a nursing nook where you can add a comfortable armchair or a rocking chair if you prefer. Add a bean bag or footrest so that you are comfortable. Once your baby is eating solids, you can easily turn that space into a reading corner by adding a bookshelf on the wall.
Decor tip: Use a leaning ladder bookshelf to display reading books. Alternatively, floating shelves can work perfectly too.
Organisation is key
Less is more when it comes to a baby's nursery. Bulky furniture pieces that are not useful will take up unnecessary space and will result in a grumpy Mom. Flat, wide clear storage containers are a useful way to store items beneath the baby's crib. Divide your children's clothing according to age to make changing time easy and effective. You can do so by diving the clothes with hanger dividers or if you are limited by closet space, pack clothes according to age in separate clear containers and add labels to mark each container clearly.
Decor tip: Take an old frame you no longer use, remove the glass and cardboard insert so that the frame is bare in the middle. Secure a piece of elastic across the frame and use that to organise hair ribbons, hats and little bits and bobs that get lost in the cupboard.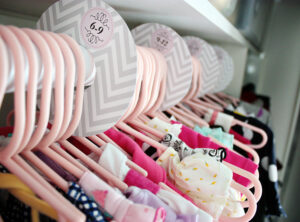 Welcoming a new baby is stressful enough, hopefully these nursery ideas can create excitement and make nursery decorating fun and enjoyable!