Seller: MIKE TALJAARD
Name: Mike Taljaard
Mike Taljaard used to struggle to sell his art. Today, he enjoys internet fame and is one of the most sought-after artists on bidorbuy. Here, Mike unselfishly shares his formula for bidorbuy success.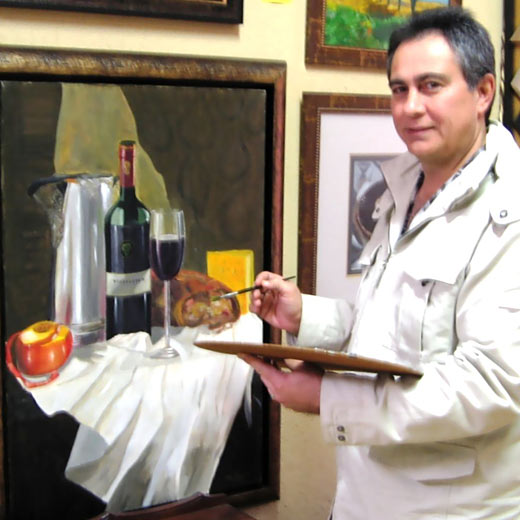 I seriously started selling on bidorbuy in January 2010. I sell paintings, art books and one single diet, in the form of an ebook, that helps you loose 4.5 kg in just three days. You better believe it; I tested it personally!
I specialise in oil paintings and chalk pastels. My paintings vary from landscapes, still life to modern art. I am past the stage of copying pictures to demonstrate my reproduction skills. I now work differently. I get an idea; I make a quick pencil sketch; then my imagination takes over. I finish most of my paintings within the hour. The best I have done so far is to paint ten paintings in a day and twenty one paintings in three days.
I exhibit my paintings at my gallery, Mike Taljaard Art, but sell most of them on bidorbuy.
I can truly say that I found bidorbuy to be the best online market.
A few years ago, I was not known on the internet and I struggled to sell at art galleries and arts and craft markets. So far, I have sold over a thousand products on bidorbuy and at the moment have a 100% positive ratings rate.
In 2011, bidorbuy gave me an achievement award as one of the top thirty sellers in Cape Town. I have now found a way to run my own business as an artist and market everything on bidorbuy. You get known that way on the internet. If you go to Google and type in Mike Taljaard, the first eight pages are all about me and the paintings I sell on bidorbuy.
I find that R1 auctions of longer duration, about three weeks, work best for me. When you start at R1, your listing appears on the All Crazy Auctions section and gets more views. And when you opt for a longer duration, you get peace of mind, because the chances are that the artwork listed for three weeks will sell and that you will get paid for it.
That is not to say that I put all my artwork on auction starting from R1. When I create a painting that is dear to my heart, a painting that I want to hang on to, I list it at a higher price. That way, I do not feel too sorry to let go of it if somebody is prepared to pay what I consider a fair price.
Talking about prices, my motto, generally speaking, is to sell my art at prices people are prepared to pay. I know that as I get more famous as an artist, buyers will pay more.

I would urge everybody who wants to make an extra income to start translating their dream into reality. Just look around yourself and find an answer to this question: Ask yourself, what can I create or buy at a reasonable price and sell on bidorbuy for a profit?
When you start selling on bidorbuy, register as an advanced seller as soon as possible and list your items on auction, with a minimum starting bid, over three weeks.
As soon as you can afford it, start promoting your items on bidorbuy with various enhancements, like priority listing, category listing and bold listing. Now and then, I also venture a home page listing as well as premium listing.
If you do not promote your listings somehow, you receive an average of seven views over three weeks. How do you expect then to sell? By paying just R5 more for priority listing, you jump up from those seven views to 55 views, and only for R5! Promoting your listings will increase the number of visits; more visits translate into a higher chance of selling, and for a better price too. So, budget for advertising your products!
Another thing I have learnt is that when a buyer is for some reason unhappy with your service, do not interact with emails. Rather phone the buyer and sort it out.