Socks are not only needed to keep you warm or to make wearing shoes more comfortable, they have also become a fashion statement. Instead of hiding your socks to make your shoes the star of the show (hence the creation of the secret sock), we now wear socks to show them off. Keep in mind that secret socks are still a necessity for specific types of shoes. Since socks can now be your new fashion accessory, you need to know how to wear them. Continue reading if you are interested in learning more about how men should wear their socks.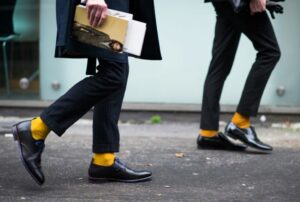 Make your socks the star of the show
Bold patterns and colours are the way to go. You can try this look with your office attire or even with a more casual pair of jeans. Roll up your jeans or get your smart pants hemmed to give you that extra bit of sock viewing. When it comes to patterns, you can never go wrong with stripes, polka dots, diagonal patterns and solid bold coloured socks. I am sure you have heard of happy socks? Don't be afraid to use textured socks; they can give your outfit some much needed depth. If you are not sure about how to pair the colour of your socks with your outfit, remember this simple rule: match one colour from your socks with some part of your outfit. However, if you are confident about your outfit-sock combination and want to be daring, you be you!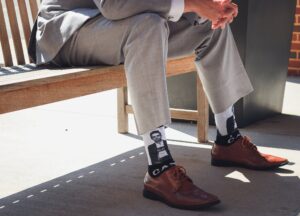 If dots and stripes are too mainstream for you, consider funny socks with images. By images, I mean anything really. This could be cute dogs, food items like avocado or even floral patterns. You are free to do as you wish, the only thing I must warn you against is pattern matching. At no point do you ever want to strive for your outfit and your socks to have matching patterns.
Shoes you need to rock with secret socks
There are some shoes such as loafers that should never, ever be worn with socks (in my opinion). However, that doesn't mean you need to wear shoes without socks; that isn't the best idea, as it might result in sores or blisters and (I hate to say it) smelly feet too. So the solution to this is…secret socks! Be sure to get a pair that has a rubber grip at the back to prevent the socks from slipping off. I am sure we can all agree that that is high on the list of irritating things.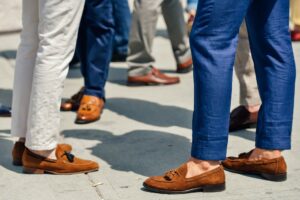 The perfect pair of socks for the gym
Often, people confuse secret socks with sports socks. Just imagine, you are running on the treadmill and your sock slips off and bunches in the middle of your shoe. You are officially almost sockless while running, are you imagining the irritation? Well, that is why ankle socks were created. These are short, but still, sit about two centimeters above your shoe and cover your ankle slightly to provide extra comfort. Ankle socks are perfect for the gym because they avoid the drama of the secret sock, but also ensure that you steer clear of the fashion mishap known as mid-calf or over-the-calf socks with shorts.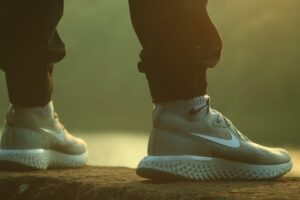 General sock related rules
Besides the fashion related recommendations mentioned above, there are a few general rules everyone should follow regardless of the type of socks you use or wish to purchase. Your socks should always be clean. Remove any visible stains and make sure your socks don't have any holes. If the holes are not repairable, it is sadly time to toss out your socks. Lastly, consider what the socks are made of before purchasing. If you are looking for socks that can adjust to the weather, wool is what you are looking for. Most socks are made from cotton, as this is a durable and affordable material. If you are looking for something fancier, silk socks are the answer. These can be used for a more formal occasion.
Now you are ready to rock those socks!