It's that time of the year again, when all the kiddies want to dress up for Halloween school party or for some trick or treating. We at bidorbuy have all the Halloween goodies and gear you require, such as adult costumes, kids' costumes, face paints, wigs, masks, decor, and even scary Halloween sweeties.
Since we can offer you all these online, we thought we would give you some tips on how to finish off the final project with some great, very quick and easy face painting ideas for kids.
Firstly, try to avoid oil-based face paints. They smear, are more difficult to remove and clog the pores.
To start, dab a corner of a makeup sponge in water and start painting. Finish the look with glitz and sparkle! Only use non-toxic glitter. To apply, dip a tip of a paintbrush into water, dry off excess water on a cloth and dip it into the glitter, then apply to face.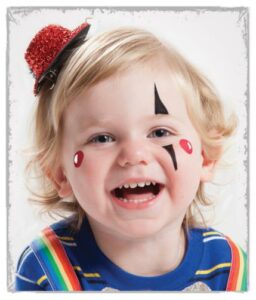 Clown
This is a great look for a toddler as it uses very little face paint, so there won't be so much rubbing and smudging. Complete with a clown costume from on bidorbuy.
You will need:
Thin paint brush and red, black and white face paint.
Instructions:
With a thin paint brush, draw a black triangle above and below the left eye using the black face paint.
Draw two red circles on each cheek with red face paint and highlight with white.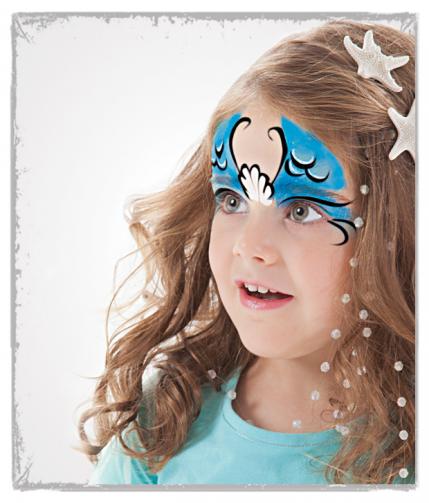 Mermaid
Super cute look for little girls. bidorbuy has the most gorgeous mermaid outfits for kids and adults.
You will need:
Small face sponge, thin paint brush and some blue, black and white face paint.
Instructions:
Dip sponge into blue face paint and apply above the eyes and up onto the forehead.
Using the thin brush, paint a white shell in the center of the forehead and scales (or "U" shapes) over the blue paint on the forehead. Outline this area in black paint.
Draw a black line on the eyelids and two black lines at the corner of each eye.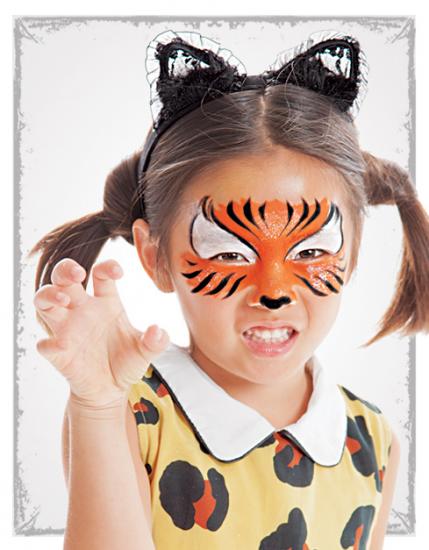 Tiger
Get the wild look! Perfect for boys and girls. Loads of tiger costumes for kids and adults on bidorbuy!
You will need:
Small face sponge, thin paint brush and some orange, black and white face paint.
Instructions:
Dip sponge in white face paint and dab around the eyes.
Clean and dip sponge in orange face paint and apply over the cheekbones, nose and between the brows.
Use a thin paintbrush to draw tiger stripes on the forehead and cheeks. Paint a small black heart shape at the tip of the nose.
Outline the white paint with black paint.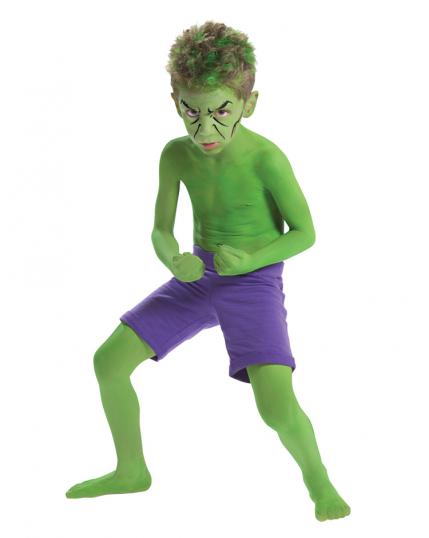 Hulk
Go green! If you don't have the budget to buy a full costume then why not paint it, else you can purchase a Hulk costume and just paint the face.
You will need:
Large and small face sponge, thin paint brush and some green and black face paint.
Instructions:
Use a larger sponge to smear green face paint all over the body; do not paint on the palm of the hands. Use the smaller sponge to paint face.
Once green paint is dry, use a paintbrush to draw black lines on each of the cheekbones toward each ear. Then make vertical shadow lines from the lines on the cheeks.
Using the paintbrush draw a black line from the top of each nostril down to the side of the mouth, following the laugh lines and add a line under each eye.
Create angry eyebrows by using the thin paintbrush.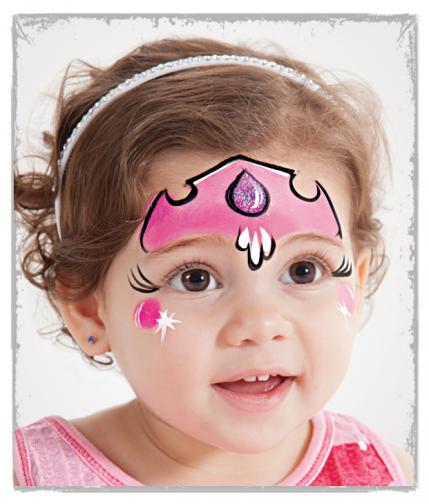 Princess
Every little girl wants to be a princess. Complete your beautiful princess costume with her very own face painted crown!
You will need:
Small face sponge, thin paint brush and some pink, purple, white and black face paint and pink or purple face glitter.
Instructions:
With the thin paint brush draw an outline of a pink crown on the forehead. Use the sponge to fill in the crown with pink paint.
Draw a purple teardrop jewel in the centre of the crown and add three white teardrops between the eyes. Add a pink circle under each eye and highlight with a white starburst.
Outline the crown, jewel, and teardrops in black with the paintbrush and add three black eyelashes beside each eye. Highlight the crown and jewels with touches of white and purple or pink face glitter.
If the look your little one likes the best seems daunting, first practice painting it on paper.
Here are a few more looks that you'll be able to master with just a little practice, please click on the images for more ideas on bidorbuy: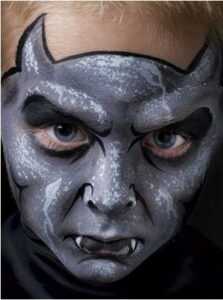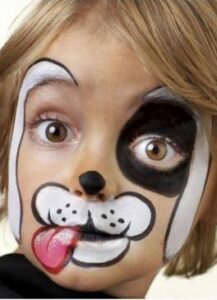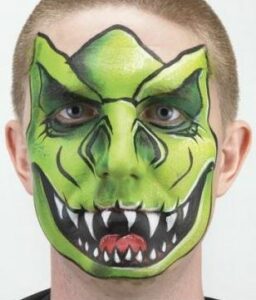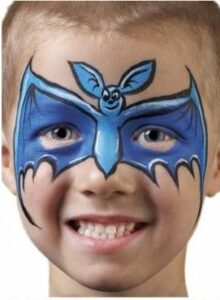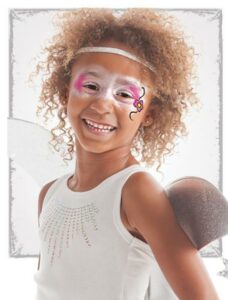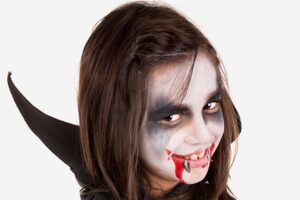 Have a fun Halloween!