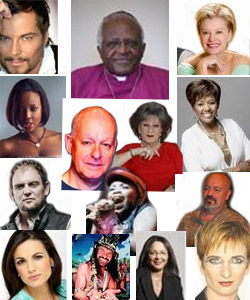 Last year in June, bidorbuy hosted Celebrities for Charities 2009. This year, from 20 to 30 July 2010, bidorbuy plans to host Celebrities for Charities 2010.
Invitations to charities to enlist the help of their celebrities have been sent out. The initial response has been enthusiastic. The idea is that the charities ask people whom we would all love to meet to donate a couple of hours of their time for a good cause. That time can be in the form of a lunch, a round of golf, or anything else the celebrity can think of.
The charities or non-profit organisations will list the celebrity's time on an auction on bidorbuy. The auctions will start from R1 and the highest bidder wins the privilege of meeting his or her favourite celebrity face-to-face. There are no costs involved for the sellers; all proceeds from the auctions go to the participating organisations, because bidorbuy will waive its usual success fee.
The 2009 Celebrates for Charities event was a resounding success. Thirty-nine public figures auctioned off their time and raised more than R56,000 for their favourite charities in what was one of the biggest line-ups of celebrities in the history of South African internet. The list of celebrities included the Nobel Prize laureate Archbishop Desmond Tutu, singers Steve Hofmeyr and Zolani, TV presenter Elana Afrika, actor Pieter Dirk Uys and his alter ego Evita, artist Cornelius Bosch, entrepreneur Alan Knott-Craig Jnr, and many more. (See the full list of celebrities and charities they endorsed in the 2009 Celebrities for Charities auctions.)
If you represent a charity or a non-profit organisation and would like to participate in the 2010 Celebrities for Charities fund raising event on bidorbuy but did not receive an invitation, do not worry. Simply look around for a celebrity or celebrities to endorse your organisation and write to promotion@bidorbuy.co.za. You will be welcome!