Are you at a loss for New Year resolutions? Here are a few suggestions, tailor-made for bidorbuyers: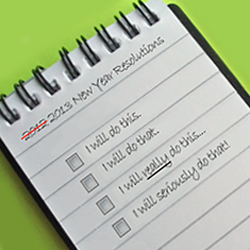 I will keep my bidorbuy account updated and never give my bidorbuy log in details to anyone.
I will not be a deadbeat buyer. I will bid on or order only what I really want to buy and honour my commitment by completing my order and making a prompt payment.
I will make some extra money selling on bidorbuy. (Why not start with listing that unwanted Christmas gift.)
When I sell on bidorbuy, I will describe my items accurately and offer fast and good service to my customers.
I will strive to maintain positive ratings next to my bidorbuy user name, but I will not freak out over a negative or two.
I will take responsability for my trading decisions on bidorbuy.
I will finally find time to actually read the bidorbuy Terms and Conditions.
I will help others as much as I can.
I will report any problems I notice on the site and never, ever, do the wrong thing just because someone else got away with it.
I will improve my internet security habits.
I will play nice. Perhaps not every problem can be solved with polite communications, but all problems are easier to face when approached with a cool head.
Want more? Check out this New Year resolutions generator!
Whatever resolutions you decide to make, remember to keep them real. As someone wise once said, nothing is worse than starting a New Year feeling like a failure on day two…