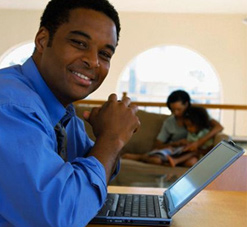 Are you a bidorbuy seller who is contemplating working from home?
While there are many advantages to such an arrangement, there are also some drawbacks you need to avoid in order to stay focused and productive.
Here are the top 10 pitfalls everyone who is working from home should be aware of:
You loll about in your pyjamas. It is not necessary to wear a tie and a beltor a pencil skirt and high heels, however dressing too casually makes you… well, sloppy and sleepy
You work in the living room (or bedroom, or kitchen…). A dedicated "office" area is primarily a psychological consideration, but still very important. If you can't set aside a room, at least separate your work area from the rest of your home with curtains or a screen.
You tolerate interruptions. Kids are the easiest to deal with: just send them off to day care or school. But when your friends find out that you are at home all day available for an emergency chat or a game of chess, as the case might be… just tell them that you are not.
You become anti-social. The other extreme is just as bad, so take care not to forget how to socialise. Set aside some time to meet others face to face at least a couple of times per week.
You (try to) multitask. Multitasking is a myth and will more likely than not lead to a burned lunch and badly worded business email message. Rather focus on one thing at a time by creating blocks of time devoted exclusively to work and other blocks for household chores.
You don't know when to stop. Don't keep on going… and going… until you fall asleep atop of your keyboard. Instead, review what you need to do for the day in the morning and close the book (or laptop) when you cross off the last item.
You are computer illiterate. It's all well and fine not to bother learning how stuff works when you can call the IT guyto come to your desk, but when you work from home you need to be able to fix small computer and internet related problems. If not, the maintenance cost will soon become too high.
You forget to walk. It's amazing how many more steps we make if we have to get out of the house each and every day, even if we drive to work.
You forget to plan for the future. Working from home is less secure than standard employment, so make sure you have enough in savings should things go south.
You forget to enjoy it. Always remember why you wanted to work from home in the first place. Take a walk. Smell the roses.
All in all, with some careful planning, working from home can be like living on a permanent vacation. Make the best of it!