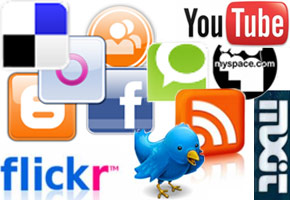 As an online seller, you cannot afford to ignore the power of social networks, because promoting your business through Web 2.0 can bring more than traditional advertising. For many small businesses, social networking is a primary, and sometimes the only way to build awareness and visibility and generate leads.
And, best of all, it is free.
If you think that establishing and maintaining a presence on social networking sites is too time-consuming for you, think again. As a seller on bidorbuy, you are ideally positioned to harness the power of Web 2.0, with a little help from your trading platform.
So, what can bidorbuy offer to you in terms of exposing your business to the wide world of Web 2.0 audience?
Join the bidorbuy Forum. You will not only be able to seek help from fellow-sellers; you will also be in a position to make your online business better known and more credible.  And the more people know you and trust you, the more likely they will be to buy from you (providing they like your products, of course).
Join (or "like") the bidorbuy page on Facebook. Every now and then, post a link there to your products (we ask our seller to limit themselves to two links a day).
Join (or "follow") bidorbuy on Twitter and post as many "seen on bidorbuy" tweets as you want to.
Promoting your business via Web 2.0 means treading a fine line between giving others information and spamming them. And how can you tell where that thin line is? Well, to succeed on Web 2.0, you have to be genuinely you; you have to believe in your products; and you have to know – or even better, to want to know – everything there is to know about your line of products.
For a person passionate about his or her bidorbuy business – nothing could be easier.
Once you get the hang of the social networking channels available through bidorbuy and feel comfortable in the Web 2.0 world, widen your scope. You may start your own blog; comment on other people's blogs; make use of other social network sites like Digg, StumbleUpon, LindekIn, del.icio.us, YouTube, Flickr, MXit, Blueworld…. (There's a long, but by no means exhaustive list of social networking sites on this Wikipedia page.)
If you already use any of the Web 2.0 sites to promote your business, tell us about it. We'd love to hear from you!