UPDATE: As of October 2016, bidorbuy is retiring its Windows Phone mobile shopping app.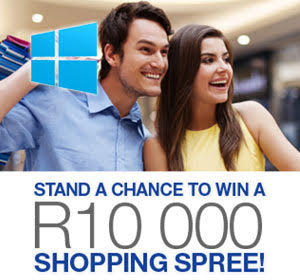 We have the winner! It is the bidorbuy user david dobson, who bought something via the bidorbuy Windows Phone 8 app… and won the awesome prize of R10,000 in bobBucks voucher!
We congratulate the winner and wish him fun spending that windfall on bidorbuy. (What a way to start the year!) To everybody else – thank you for participating in this competition and better luck next time!
Buy from your bidorbuy Windows Phone 8 app and stand in line to win a R10,000 bobBucks voucher!
The bidorbuy Windows Phone 8 app awards you in more ways than one.
Firstly, because this app is smooth, fast and beautiful.
Secondly, because it enables you to browse, search through and buy any of more than a million items listed on bidorbuy.
And thirdly: to mark the end of 2014 and the start of 2015, bidorbuy is giving away R10,000 to one lucky bidorbuyers who buys anything on the site via her or his Windows Phone 8 app!
All you need to do is download the app from Microsoft's Windows Phone Marketplace (It's free) and buy something between now and the end of January 2015. Your name will automatically go into a draw, and you may end up being the lucky one to start the year with R10,000 to spend on bidorbuy!
Every purchase counts as one entry, so the more times you buy, the more chances you have of winning.
So, if you have a Windows Phone 8 device, download the bidorbuy app and start shopping now. In case you don't have a Windows Phone 8 device and are in the market for a smartphone, we recommend the Lumia range offered on bidorbuy. Our app is designed to work well across every Windows Phone 8 device, regardless of whether you have one of the little Lumia 520′s, or a blistering fast 1520. Of course, your Windows Phone operated HTC, Huawei, or Samsung will do just as well!
Whatever you do, get shopping now. The countdown has begun!
Terms and Conditions:
Everyone who buys anything via the bidorbuy Windows Phone 8 mobile application between now and 31 January 2015 is automatically entered into this competition.
Each purchase counts as one entry.
Non-completion of a purchase disqualifies the entry in question.
The winner wins a R10,000 bobBucks voucher.
The voucher will be valid for 6 months from the date of issue.
bobBucks can only be spent on www.bidorbuy.co.za and are not exchangeable for cash.
The winner will be chosen by a random draw and declared on 12 February 2015 in this blog post.
Happy shopping and good luck in the bidorbuy Windows Phone app competition!